Carne Asada Torta
This is the torta of your dreams! These Mexican sandwiches are packed with the most juicy and flavorful carne asada and when you didn't think it could get better, it gets finished off with a creamy avocado tomatillo salsa verde. If you're looking to elevate your sandwich game, this recipe is it!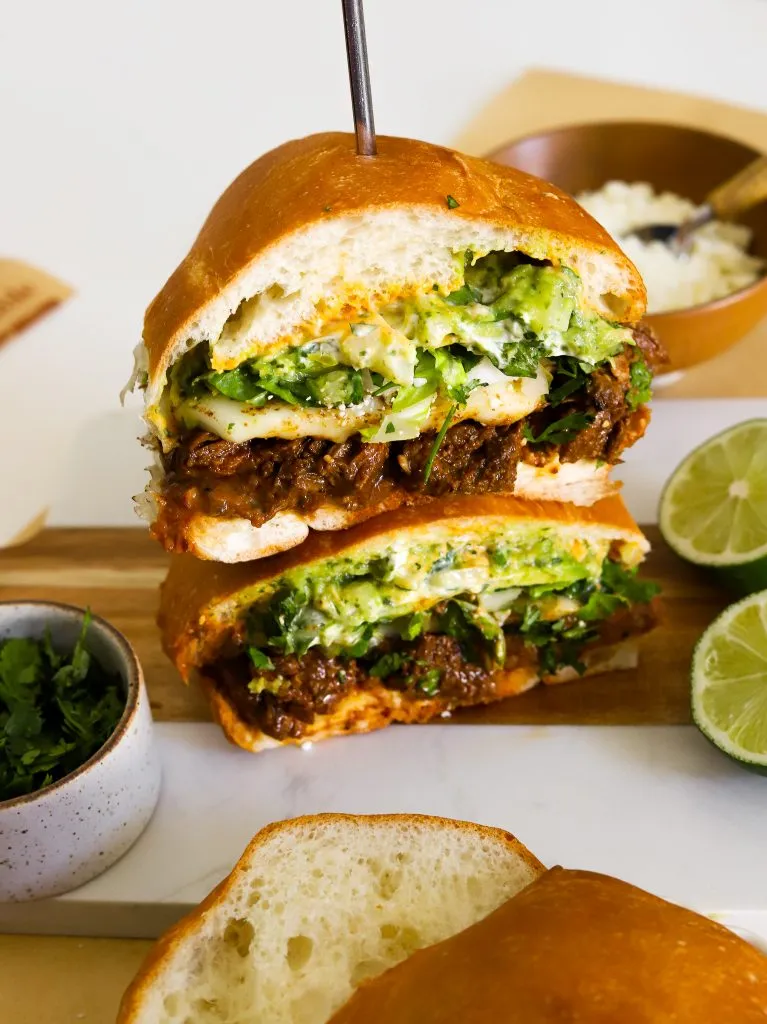 The Carne Asada Marinade
Making restaurant quality Carne Asada at home is a lot easier than you think! It turns out so tender and packed with lots of flavor. This steak is delicious in tacos, in burritos, on top of nachos, or in a salad but today we'll be using it for tortas!
Let's start off with the cut of steak! The most popular steak used is flap or skirt steak. I highly recommend using those options. They're super thin so the steaks cook really fast but still turn out so soft.
Now here are all the ingredients you will need for the marinade:
orange juice
lime juice
soy sauce
olive oil
white vinegar
smoked paprika
cumin
oregano
salt
garlic powder
onion powder
black pepper
cayenne powder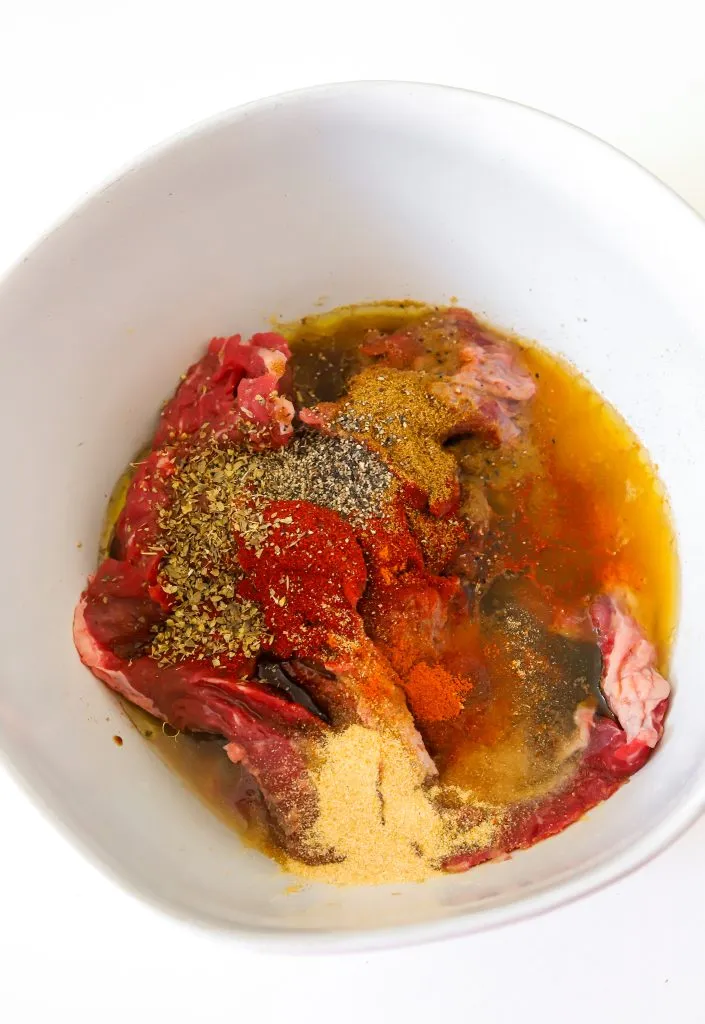 Just add all the ingredients above to a large bowl along with the steak and mix them all together. Cover and depending on how much time you have, let it marinade as long as possible. Thirty minutes is good, one hour is amazing, and overnight is even better!
You can also add some cilantro or fire-roasted diced jalapenos into the marinade if you'd like. If I have it on hand, I usually will add but it is not necessary at all.
To cook the carne asada, I like to use a cast iron skillet but if you have a BBQ, that is the most traditional method. Since flap steak is really thin, it cooks pretty fast so cook it on high heat so you can get a beautiful sear on each side for more flavor – about 3 minutes on each side.
Once cooked, chop it into pieces on a cutting board and it's ready to go!
The Salsa
Now to take this sandwich to the next level, we are going to make a salsa from scratch! If this is your first time making salsa, nothing to be intimidated about. The recipe is super simple and it comes together in under 10 minutes.
The first step is to toast the tomatillos and onions in a pan with a bit of olive oil just to get some char on the tomatillos and caramelization on the onions.
Then add the tomatillos and onions to a food processor along with avocado, cilantro, garlic, jalapenos, lime juice, and salt. Blend together until smooth and that's it!
Where to Buy the Bread
Traditionally, the bread used for tortas is called telera or bolilos. I used telera bread, it is more round shaped. Bolilo bread is football-shaped, it just depends on what you prefer. You can find telera rolls at most grocery stores. I went to Cardenas Market which is a Mexican supermarket and you are guaranteed to find it there.
Assembly and Variations to Try
Once the steak and salsa are ready to go, it's time to assemble the sandwich. You can toast the bread before assembly or toast it after filling it. I prefer to do it before so all the greens stay fresh and crisp inside. You can also choose to not toast it.
Here are all the toppings I added inside from bottom bread to top bread:
refried beans
carne asada
oaxaca cheese
cotija cheese
lettuce
avocado
sour cream
red onion
salsa verde
Some other toppings you can add in there are tomatoes, pickled jalapenos, chipotle sauce, and mayonnaise.
Craving More Sandwiches? Try These Recipes!
If you tried this recipe and loved it, drop by down below and let me know how you liked it with a rating and comment! Feel free to also leave a question there about this recipe and I'll get right back to it.
To see more recipes and behind-the-scenes, follow along on Instagram and Youtube! I'm also now on Pinterest pinning away so stop by and see what's up.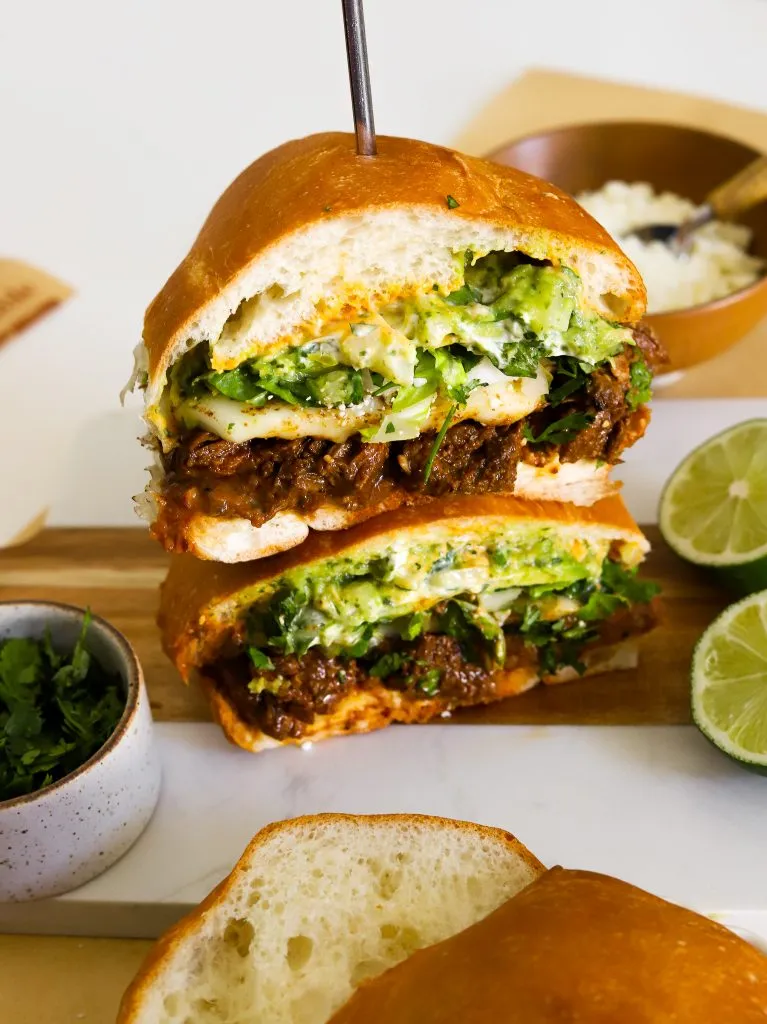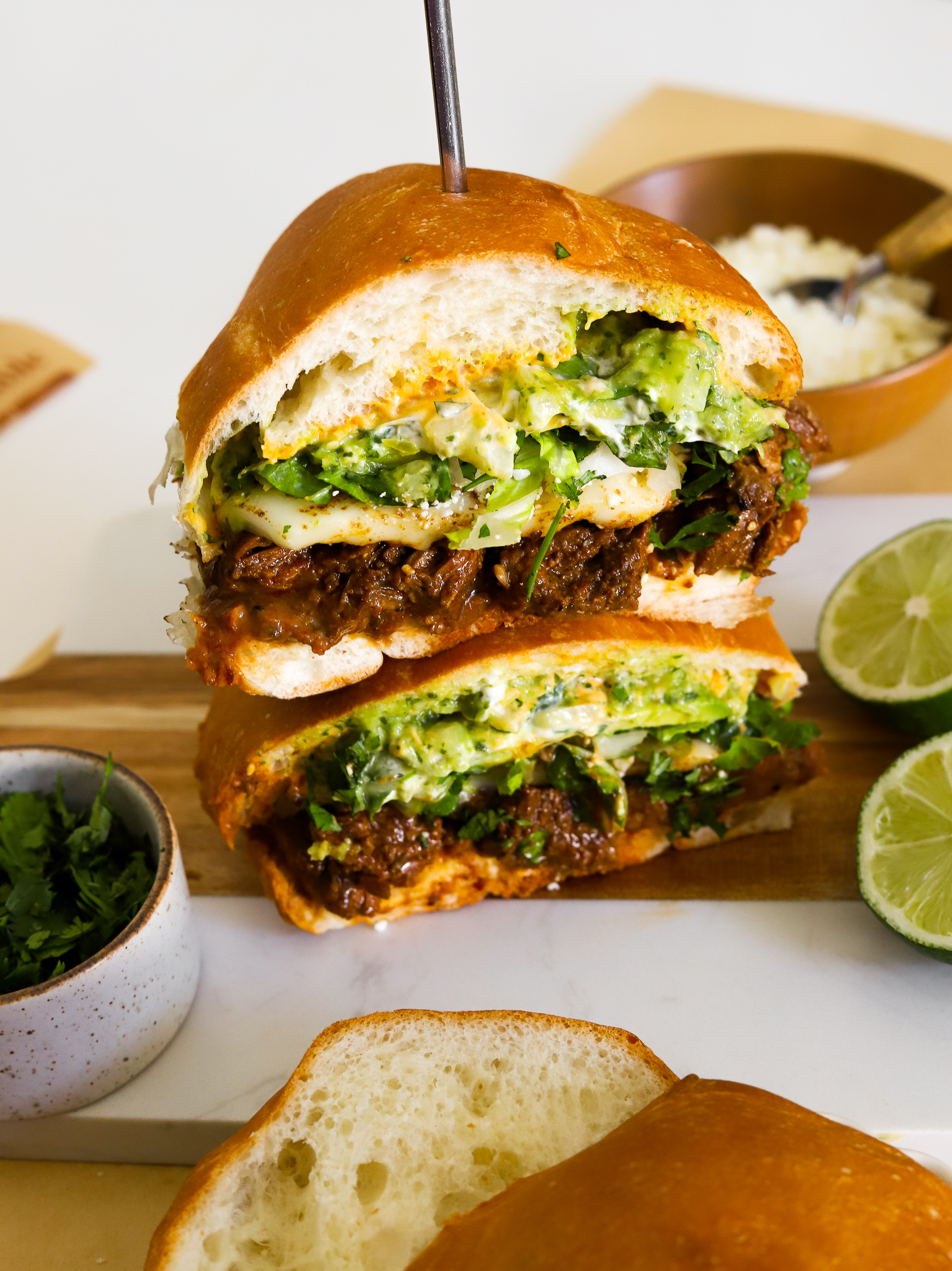 This is the torta of your dreams! These Mexican sandwiches are packed with the most juicy and flavorful carne asada and when you didn't think it could get better, it gets finished off with a creamy avocado tomatillo salsa verde. If you're looking to elevate your sandwich game, this recipe is it!
Ingredients
CARNE ASADA
1 pound flap or skirt steak
1/4 cup olive oil
juice of 1 orange
juice of 1 lime
2 tablespoons soy sauce
2 tablespoons white vinegar
2 teaspoon smoked paprika
1 1/2 teaspoon cumin
1 teaspoon oregano
1 teaspoon salt or to taste
1 1/2 teaspoon garlic powder
1/2 teaspoon onion powder
1/4 teaspoon cayenne powder, more to taste
1/2 teaspoon black pepper
AVOCADO TOMATILLO SALSA
1 tablespoon olive oil
5 to 6 tomatillos, peeled and chopped
1/3 yellow onion, chopped
2 to 3 garlic cloves
1 bunch cilantro
1 large avocado
juice of 1/2 lime
2 jalapeños
1/2 teaspoon salt, more to taste
FOR ASSEMBLY
telera rolls, toasted
refried beans
avocado, thinly sliced
lettuce, chopped
oaxaca cheese, sliced
cotija cheese, crumbled
tomatoes, optional
pickled jalapenos, optional
white onion, diced
sour cream
cilantro, finely chopped
Instructions
MAKE THE SALSA
To a hot pan over medium heat, add the olive oil, tomatillos, and onion. Sear for 4 to 5 minutes and then take off the heat.
Add the seared tomatillos and onions to a food processor along with the garlic cloves, cilantro, avocado, lime juice, jalapenos, and salt.
Blend until completely smooth.
Transfer to a bowl and set aside.
MAKE THE CARNE ASADA
In a large bowl, add olive oil, orange juice, lime juice, soy sauce, white vinegar, smoked paprika, cumin, oregano, salt, garlic powder, onion powder, cayenne, and black pepper.
Whisk all together to make a marinade.
Add the flap steak to the marinade and mix togethet evenly.
Cover and let it sit for at least 30 minutes or overnight, the longer the better.
Preheat your skillet or grill over high heat.
Add the steaks and sear until one side is browned, about 3 to 4 minutes. Flip over and sear the other side until browned for about 3 to 4 minutes. The thinner the steak, the less time it takes to cook.
Slice the steak into small cubes or cut against the grain into thin strips.
ASSEMBLE
Take a toasted telera roll and spread refried beans along the bottom. Then add the steak, oaxaca cheese, cotija cheese, lettuce, avoado, white onion and cilantro, sour cream, and tomatillo salsa.
Seal the sandwich shut and enjoy!
Tips & Notes
To get the oaxaca cheese nice and melted, you can add it in the oven on broil to get it toasted and then finish adding the rest of the toppings after.
Feel free to add any toppings you like or leave out any you don't like. If you like tomatoes add them. If you love pickled jalapenos, add them in. If you prefer not to have onion, leave it out or swap it with red onion! The options are endless.