Chicken Skewers in the Oven
Juicy, flavorful, Moroccan-inspired marinated chicken skewers in the OVEN!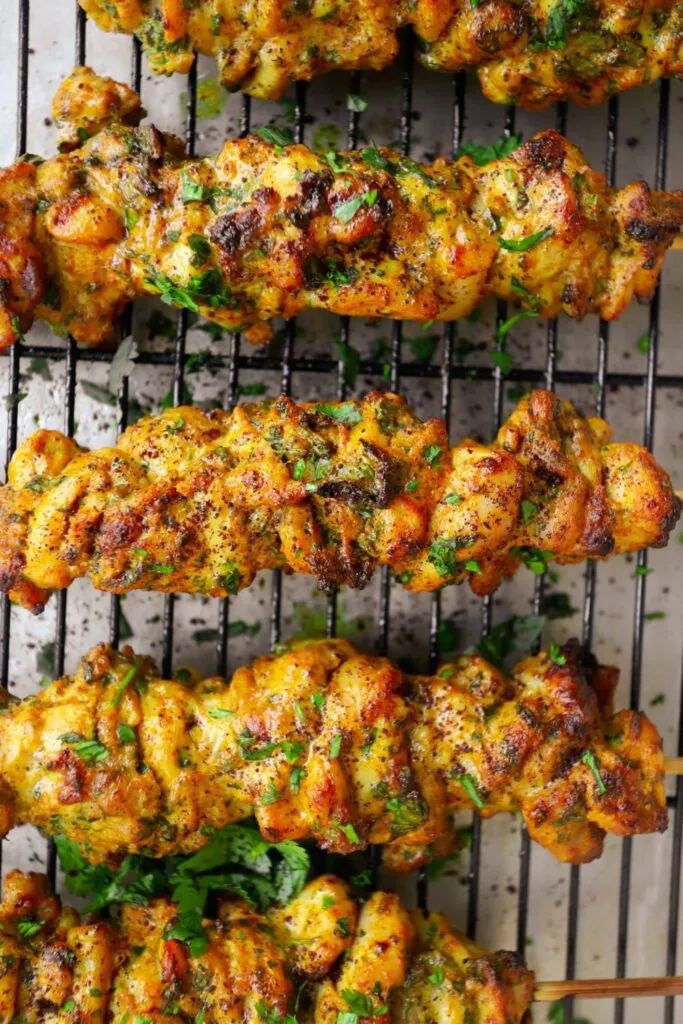 Did you know you can make juicy chicken skewers in the oven with no BBQ or mess? It's effortless but they come out so impressive with beautiful char marks as if you did grill. You can even add some bell peppers or onions to the skewers to incorporate more veggies.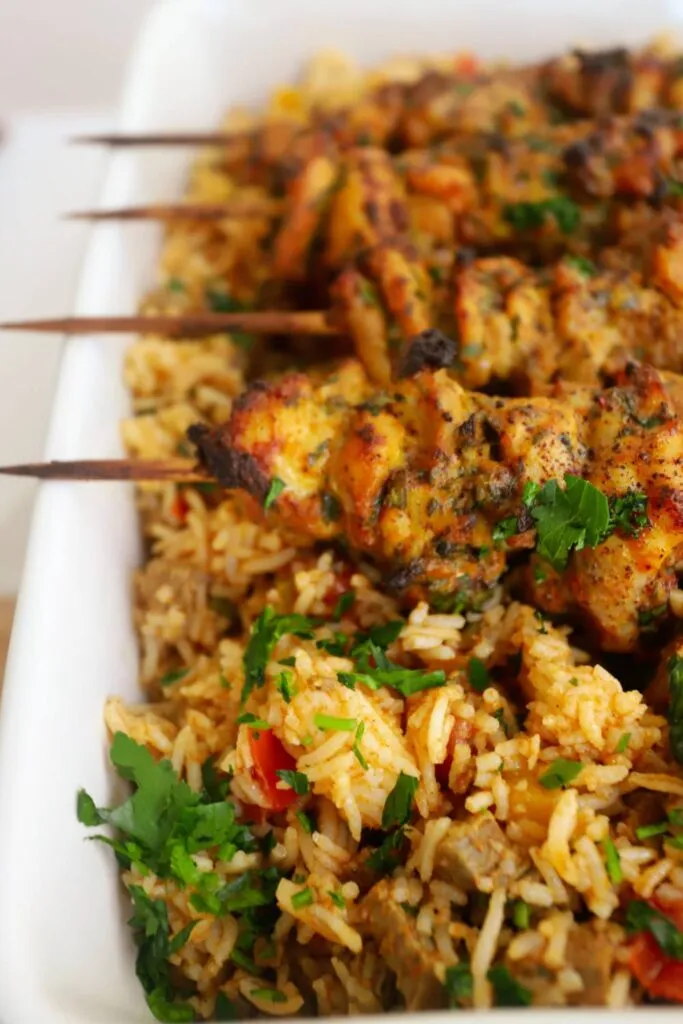 We enjoyed this with some rainbow rice that my mom taught me how to make and a homemade Caesar salad. Both of these recipes will be shared soon!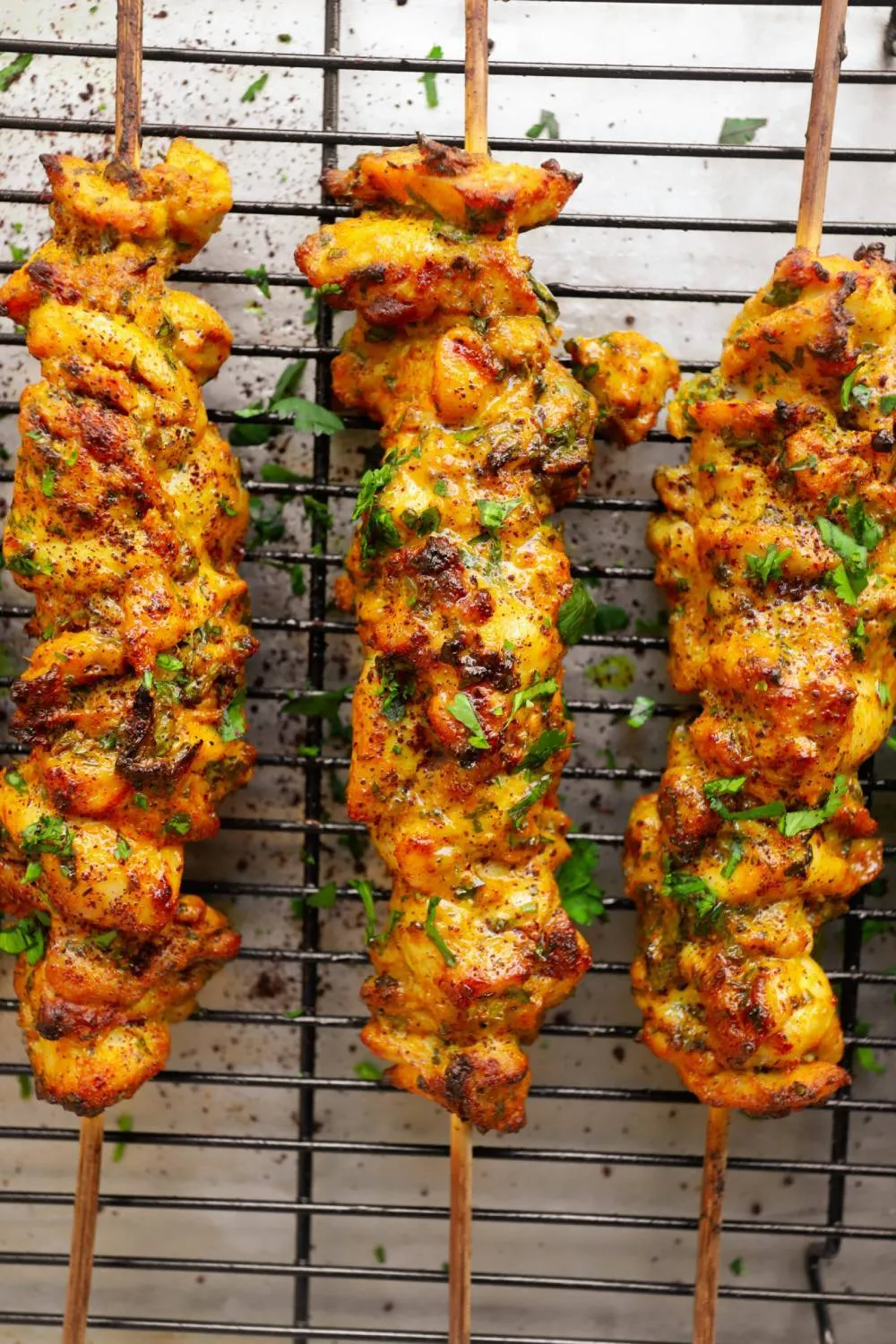 Chicken Skewers in the Oven
Juicy chicken skewers that are "grilled" in the oven to perfection! The marinade is inspired by Moroccan chermoula which is typically made from garlic and fresh herbs like cilantro and parsley and spiced with cumin and paprika. They're so easy to make with no hassle of going outside to grill on the BBQ and no one will ever know.
Ingredients
2 pounds chicken thighs boneless and skinless, cut into small pieces
2 tablespoons olive oil
1/2 cup plain whole milk yogurt
2 teaspoons paprika
2 teaspoons cumin
2 teaspoons salt
1/2 teaspoon onion powder
1 teaspoon ginger
1/2 teaspoon black pepper
1/2 teaspoon turmeric
2 to 3 teaspoons minced garlic to taste
2 tablespoons parsley finely chopped
2 tablespoons cilantro finely chopped
sumac and parsley or cilantro to garnish optional
Equipment
skewers/wooden sticks
roasting tray
Instructions
In a large bowl, add the chicken which has been cut into small pieces.
Then add the olive oil, yogurt, paprika, cumin, salt, onion powder, ginger, black pepper, turmeric, minced garlic, parsley, and cilantro.
Mix all together to marinade evenly.
Cover and let it sit in the fridge for at least an hour or overnight.
If you don't want the wooden skewers to burn in the oven, soak them in warm water for about 20 minutes.
Preheat oven to 450°F.
Thread the pieces of chicken onto the skewer. If the piece is kind of long thread it twice through the skewer so it's not dangling off. Once the skewer is full, repeat with the other skewers until all the chicken is threaded.
Place the skewers on your rack and tray, making sure they are spaced apart.
Roast in the oven for 15 minutes, then flip over and roast for another 5 minutes. Make sure the chicken has cooked through in the center and then take out of the oven.
Garnish with more cilantro or parsley and a sprinkle of sumac. Serve warm.