Japanese Egg Sandwich
If you've never had an egg salad sandwich the Japanese way, you've been missing out! I ate these every single day on my trip to Japan and never got sick of them. The fluffy milk bread paired with the creamy savory egg filling makes it just the lightest and most refreshing sandwich!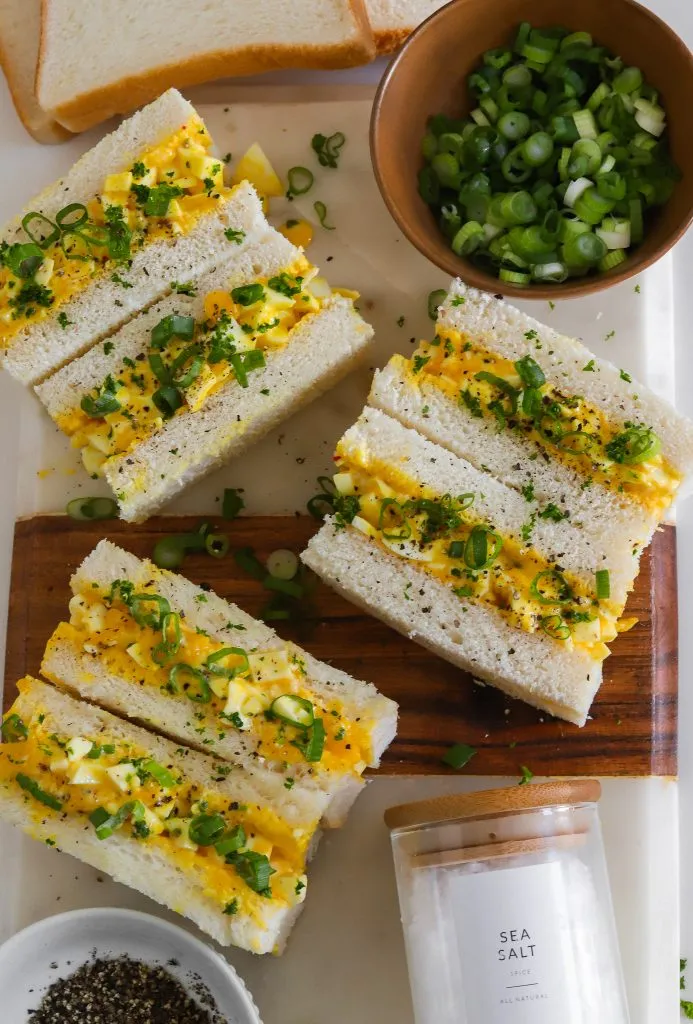 I traveled to Japan in March of 2023 and one of my favorite things I ate was the Japanese Egg Salad Sandwich called Tamago Sando. I had one almost every single day and it was just an amazing snack to grab on the go. Now that I'm back in the states, I knew I had to learn how to make it at home because I love eggs. I could eat breakfast for every single meal of the day, specifically eggs. If you like eggs and/or sandwiches too, you'll love this!
Making the Filling
The filling is super simple to make and the only prep required is boiling eggs! Start out by bringing a pot of water to a boil. Gently drop each egg into the bottom of the pot and set a timer for 8 minutes.
After 8 minutes, transfer the eggs to a large bowl filled with ice water to cool them down and stop them from further cooking. Once the eggs have cooled down, crack the shells and peel them all.
Now it's time to separate the yolks from the whites. To a bowl, add all the yolks and then transfer the whites to a cutting board to chop into small pieces.
In the same bowl with the yolks, add the following ingredients:
Kewpie mayo
mustard
salt
black pepper
sugar
heavy cream or milk
Mix everything together while mashing down the yolks. You'll have the consistency of a spread or paste. Add heavy cream of milk to thin it out to your desired consistency but it should still remain thick and hold its shape regardless!
Then add in the chopped egg whites and mix them together. That's basically it for the filling! Taste and adjust salt and pepper to your taste.
NOTE: You can find Kewpie mayo at all supermarkets, Costco, and Targets! You can also buy it from Asian stores like H-Mart, 99 Ranch Market, or a local Japanese market. If for some reason you cannot find it, then replace it with regular mayo but it is important to use Kewpie Japanese mayo.
The Bread
What makes this sandwich so unique is the type of bread used. It is not ordinary sliced white bread! Traditionally, Japanese milk bread is used which is a super soft melt-in-your-mouth white bread. The slices are also a bit thicker because of how fluffy they are compared to normal white bread. I found milk bread at my local Japanese market. You can also find it at some bakeries like Paris Baguette but your best bet is the Japanese market. Another option is to find a recipe only and make it from scratch if you got the time!
Once the filling is ready to go, cut the crusts off the bread. This is how the sandwich is served traditionally, with no crust! Then spread some salted butter on each side of the bread. Add the egg filling to one side and seal shut. Cut in half and enjoy! You can also finish it off with some green onion and red pepper flakes for some more dimension if desired.
Variations to Try
There was one bakery in Japan that had the best egg sandwich I had on the whole trip by far and what made it so unique was the thinly sliced cucumber on the sandwich. It was the perfect refreshing element to pair with the richness of the egg salad.
Another variation to try is to boil an egg a few minutes less, about 6 to 6.5 minutes for a soft-boiled egg so the yolk is still runny. You can then cut it in half and add it to the sandwich along with egg salad so when you cut it in half, you get a runny yolk in the center!
Another way to switch this recipe up is to add chopped green onions and red pepper flakes directly into the filling and mix it all together before assembling!
Watch How to Make It
Craving More Eggs? Try These Recipes Out!
If you tried this recipe and loved it, drop by down below and let me know how you liked it with a rating and comment! Feel free to also leave a question there about this recipe and I'll get right back to it.
To see more recipes and behind-the-scenes, follow along on Instagram and Youtube! I'm also now on Pinterest pinning away so stop by and see what's up.
If you've never had an egg salad sandwich the Japanese way, you've been missing out! I ate these every single day on my trip to Japan and never got sick of them. The fluffy milk bread paired with the creamy savory egg filling makes it just the most light and refreshing sandwich!
Ingredients
6 large eggs
1/4 cup Japanese mayonnaise
1/4 to 1/2 teaspoon salt, adjust to taste
1/4 teaspoon black pepper, adjust to taste
pinch of sugar
1 teaspoon yellow mustard
2 to 3 tablespoons heavy cream or milk
FOR ASSEMBLY
Japanese milk bread, or any thick slice soft white bread
thinly sliced cucumber
salted butter, room temperature
Instructions
Bring a small pot of water to a boil.
Add the eggs gently to the bottom of the pot once the water is simmering.
Boil the eggs for 8 to 9 minutes.
Transfer the eggs immediately to a bowl with cold ice water. Let it sit for 5 to 10 minutes to cool down.
After cooling down, crack the egg shells and peel them.
Separate the egg yolks from the egg whites. Add the egg yolks to a bowl and the egg whites to a chopping board.
Chop the egg whites into small pieces so it is diced.
In the bowl with the egg whites, add the Japanese mayo, salt, black pepper, sugar, mustard, and cream or milk.
Mash the yolks and mix it all together until you have the consistency of a thick sauce or paste.
Add the egg whites into the bowl and combine all together.
Prepare the bread by slicing the crusts off and spreading butter on both sides.
Add thinly sliced cucumber to one side if desired and then egg filling on top.
Seal the sandwich shut with the other piece of bread and cut in half to enjoy!