Gigi Hadid Pasta
Let's learn how to make the Gigi Hadid Pasta at home! It's super easy to make but tastes like so much effort went into it.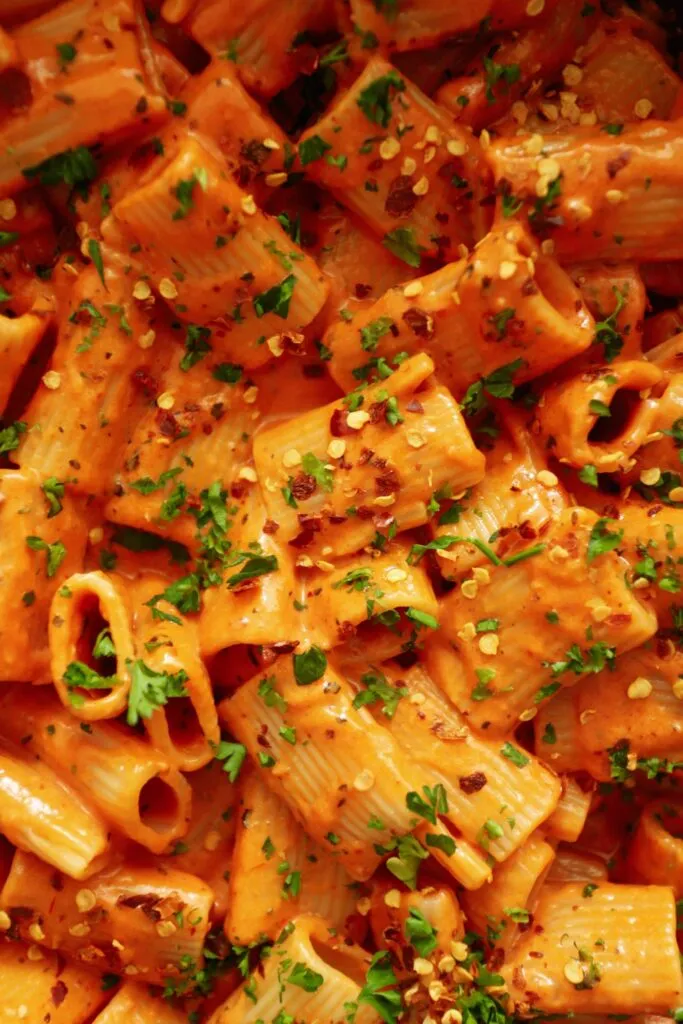 What is the Gigi Hadid Pasta?
The Gigi Hadid Pasta is nothing new, in fact it originated in Italy and is more commonly known as Spicy Vodka Pasta. It's a creamy tomato-based sauce that starts off with cooking down some onions and garlic. Then tomato paste is caramelized in olive oil and heavy cream is added to turn it into a beautifully smooth sauce. And if that didn't sound good enough, the final touches are butter, tons of freshly grated parmesan, and some pasta water. Red pepper flakes spice it up while the basil brings a fresh herbal touch to the whole dish. It's truly perfection and my new favorite pasta dish to make.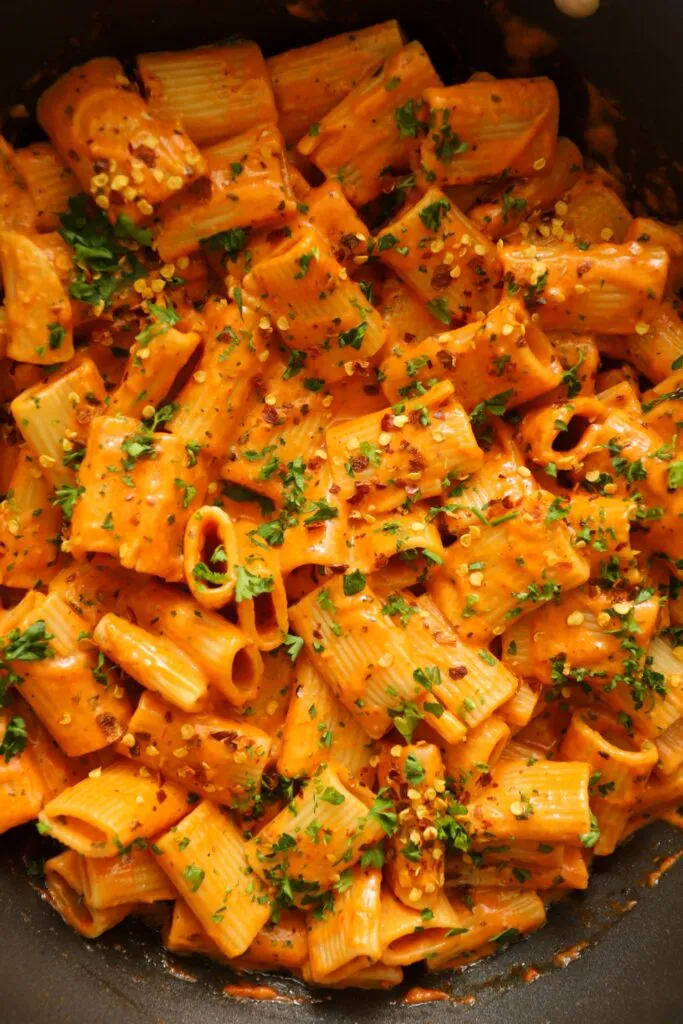 How to Make the Gigi Hadid Pasta?
To make the Gigi Hadid Pasta we need to cook some rigatoni pasta while we make our spicy vodka sauce but without the vodka!
Here's what you will need for the sauce:
Extra virgin olive oil: Sometimes I like to use the olive oil from the sun-dried tomato jar for even more flavor.
Garlic: Use fresh garlic that's been finely minced.
Tomato Paste: Tomato paste has a very bold flavor and thick texture. Because tomatoes are so acidic and the paste is very concentrated, it has to be cooked down to remove a lot of that acidity. It only takes a few minutes of cooking it in oil until it caramelizes, turning darker in color.
Heavy cream: Heavy cream or heavy whipping cream works!
Red pepper flakes: Add more for a stronger kick.
Dried basil: Fresh basil also works great. It brings a lot of vibrancy to the sauce.
Salt and black pepper to taste: Adjust to your liking. For salt, keep in mind that the parmesan and pasta water are both salty. I like to only add a pinch at the start and then add more after I add the parmesan and pasta water and taste.
Parmesan: Buy a wedge of parmesan cheese instead of using pre-grated or powder parmesan. The difference in flavor is incredible. It also melts into the sauce a lot better when you grate it yourself.
Pasta water: Make sure to reserve at least 1 cup of pasta water before draining.
Garnishes: You can add some fresh chopped parsley, red pepper flakes, grated parm, or chopped basil on top for more flavor and for aesthetic purposes.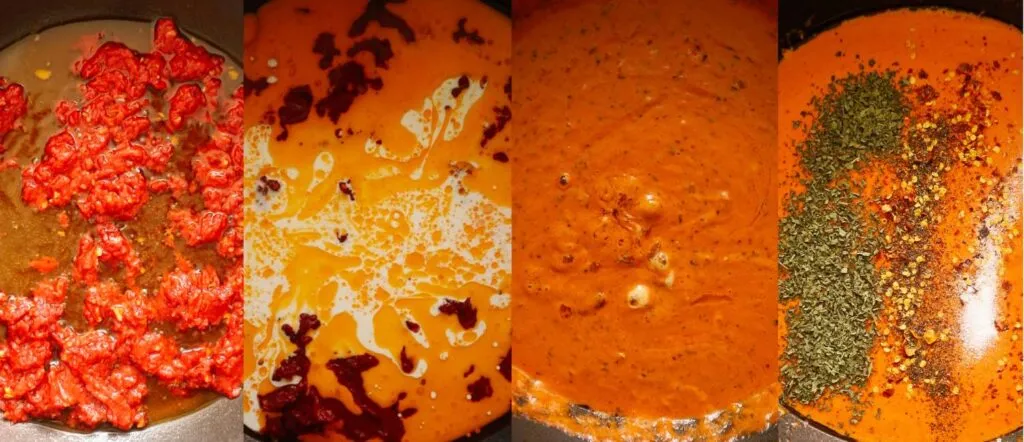 Tips & Notes
Instead of extra virgin olive oil, use the oil from the sun dried tomato jar for extra flavor. It's delicious!
If you'd like to add onions to this recipe, saute them first to soften them up before adding the garlic and tomato paste.
Make sure to use freshly grated Parmesan instead of the pre-shredded kind. It's a little more pricey but worth it. The taste is a lot more rich and authentic.
Rigatoni is my favorite shape to use for this recipe because the tube fills up with sauce, making it a lot more flavorful.
However, you can also use penne or any shape you like!
Do not toss out all your pasta water. Before draining it, save some in a cup. The pasta water not only adds flavor from the saltiness but also thickens it and helps glue the sauce to the pasta.
Add red pepper flakes to your taste. Add more if you like it spicier. The amount in this recipe does not make it spicy. It just balances the sweetness from the tomato.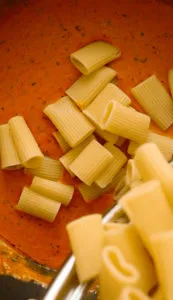 What to Serve it With
Pasta is the perfect meal all on its own but if you want to serve it with side dishes, I have some ideas for you! These are perfect if you are having guests over and want to have a bigger dinner. For something lighter, you can make Caesar salad to have on the side. For something more indulgent, make some garlic bread. Or even better, cheesy garlic bread. And for some protein, grilled chicken or crispy chicken cutlets is the perfect addition.
Some other dishes you may like:
If you have any questions about this recipe, let me know in the comments! If you make this, send me a picture on Instagram! I love seeing your remakes SO much.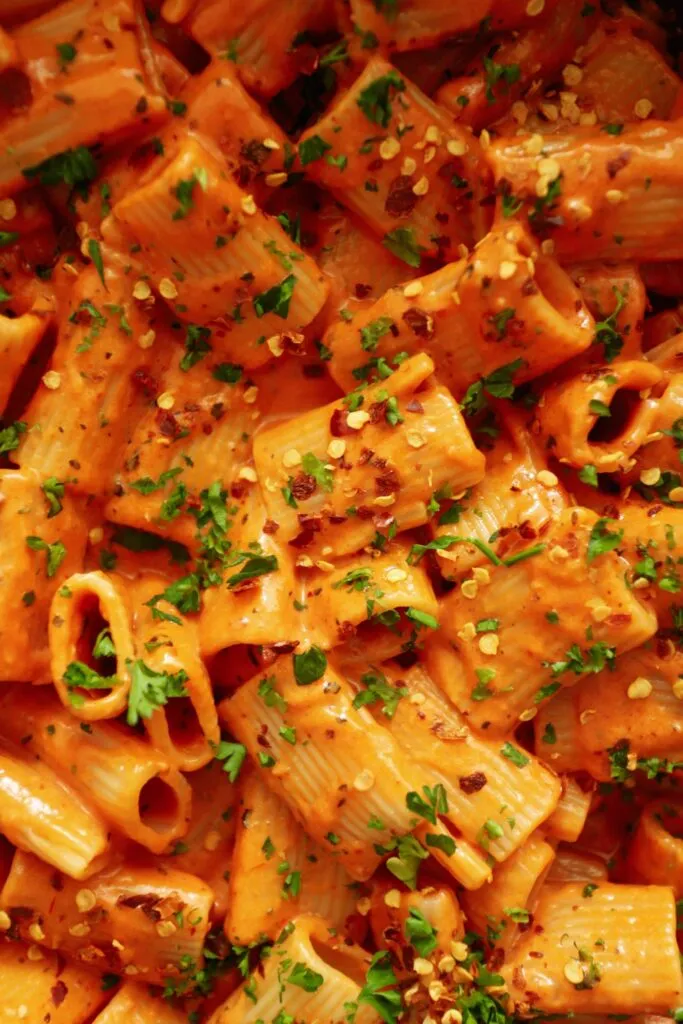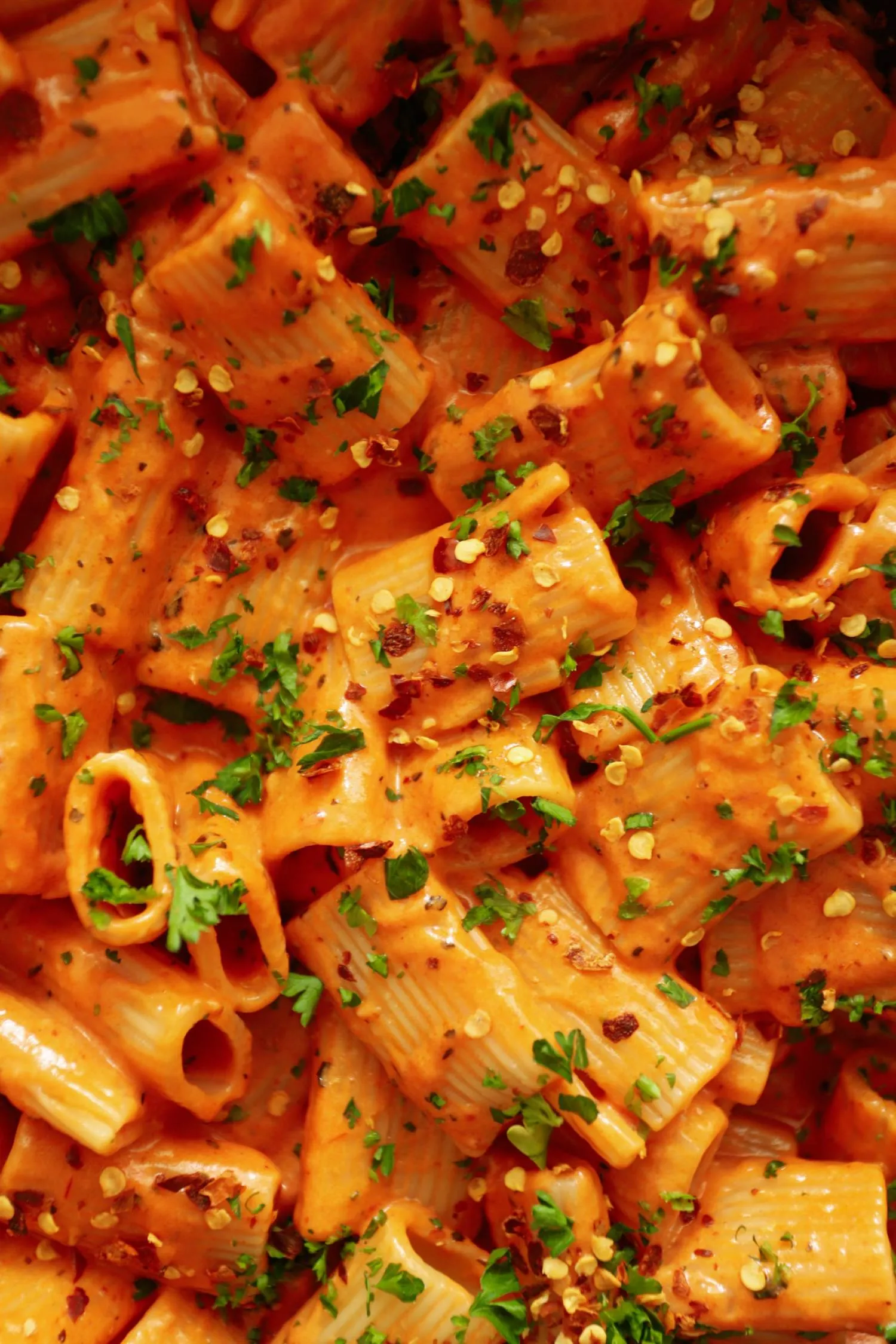 Gigi Hadid Spicy "Vodka" Pasta
Let's learn how to make the Gigi Hadid Pasta at home! It's a spicy vodka sauce but without the vodka. It's super creamy, indulgent, and the best pasta dish to make for any occasion. It always impresses yet it's so easy to make. Dinner is ready in under 30 minutes!
Ingredients
16 ounces rigatoni pasta or penne
1/2 cup extra virgin olive oil
1 tablespoon fresh garlic finely minced
2/3 cup tomato paste
1 1/3 cup heavy cream
2 teaspoons red pepper flakes or to taste
2 teaspoons dried basil
salt and pepper to taste
1/2 cup freshly grated parmesan more to taste
2 tablespoons unsalted butter
pasta water
optional garnishes: finely chopped parsley and red pepper flakes
Instructions
Bring a large pot of salted water to a boil. Throw in the pasta and cook according to package directions. Reserve at least 1 cup of pasta water and then drain.
In a saucepan, add the olive oil over medium heat. Add the garlic and tomato paste and cook for about 4 to 5 minutes. The tomato paste will darken in color from a bright red to reddish brown. This process removes acidity from the tomato paste.
Add heavy cream and mix until incorporated. Simmer for about 2 to 3 minutes.
Add the red pepper flakes, dried basil, salt, and black pepper to taste. Mix again.
Add the grated parmesan, butter, and 1/2 a cup pasta water. Mix until the sauce is smooth and creamy. If you think it needs more pasta water, you can add but 1/2 a cup is perfect for me.
Toss in the cooked pasta and mix to coat evenly. Optional, top it off with more grated parm, chopped parsley, and chili flakes.