Steak Sandwich
When I don't know what to make for dinner, I make this juicy Steak Sandwich with chipotle aioli and garlic and herb toasted bread! One day, I asked my husband what he wanted for dinner and his response was a steak sandwich. After devouring it, no crumbs left, he said this recipe has to go down on the blog so here we are. This might be my favorite recipe of 2022 so far and I'm so excited to share!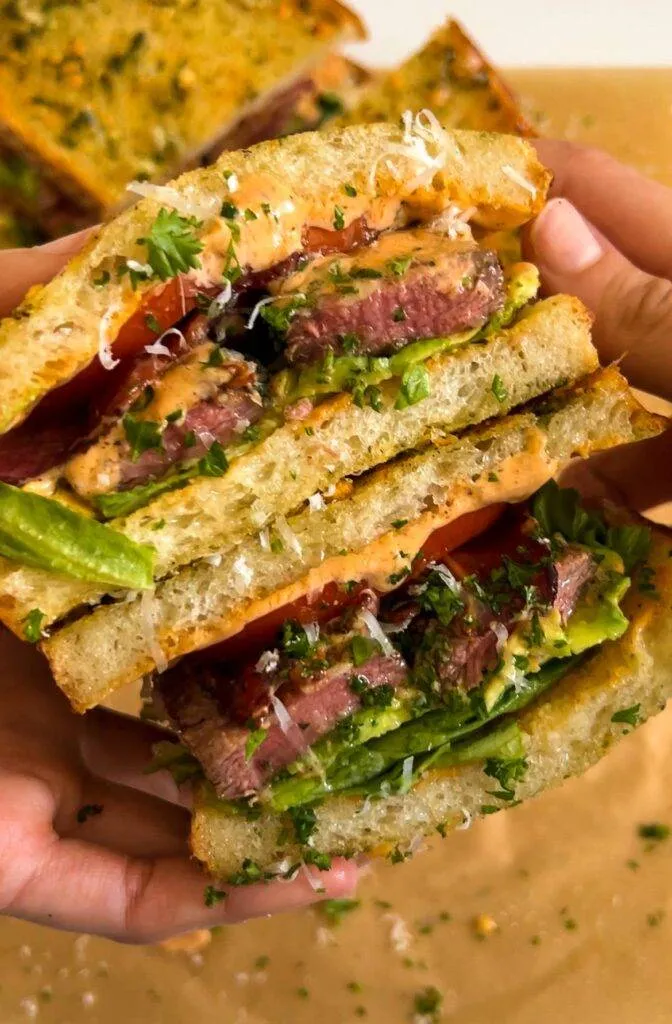 Making the Chipotle Aioli
To enjoy this sandwich, we'll be making a chipotle aioli to drizzle inside and spread on the bread! It's absolutely divine, takes less than a minute to make, and takes the steak sandwich from a 10/10 to 100/10!
In a small bowl, just combine all these ingredients and mix together:
mayonnaise
sour cream
adobo paste in chipotle peppers (only use the adobo paste. blend the peppers and add if you want it spicy)
lime juice
honey
chili powder
black pepper
sriracha (optional)
You can buy a can of chipotle peppers in adobo paste from most major supermarkets in the international food aisle. I only use the adobo paste in the can for this recipe but if you would like it to be spicy, you can add 1 to 3 of the chipotle peppers to a blender and then add it into the sauce. I personally don't think it needs any of the peppers. I just like to add some sriracha instead for a bit of a spicy kick if I'm feeling it.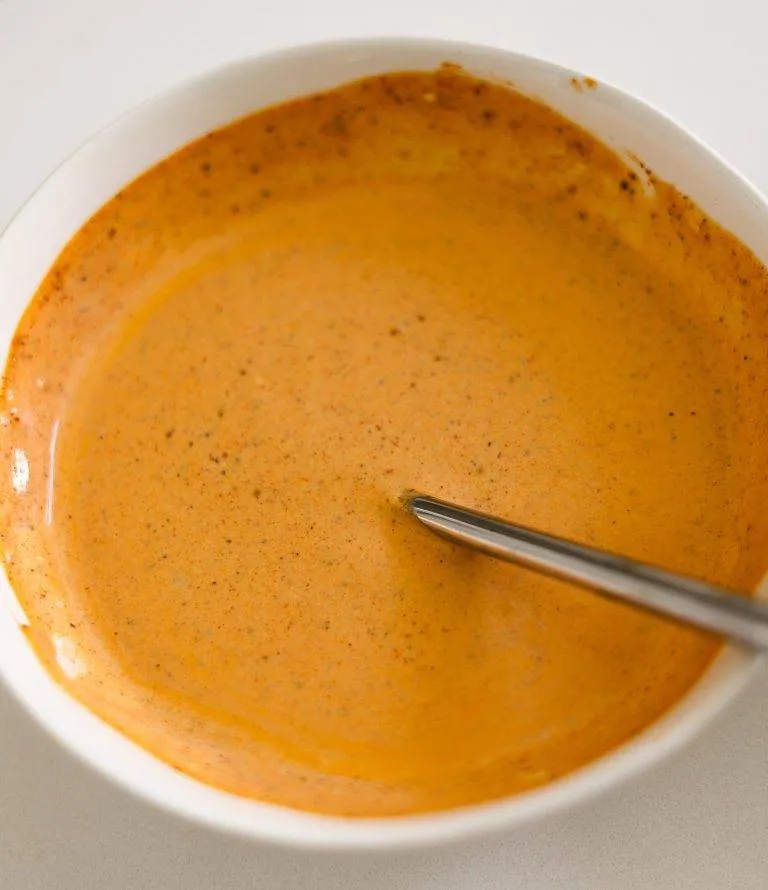 The Garlic Bread
The best way to elevate any sandwich is to turn the bread into garlic bread! It's my favorite hack to take a sandwich from a 10/10 to a 100/10 guaranteed.
For this sandwich, I like to use sliced sourdough bread. Of course, you can use Dutch Crunch, regular sliced bread, ciabatta, baguette, or a roll.
To make the garlic spread, here's what you will need:
mayonnaise
minced garlic
chopped parsley
black pepper
oregano
parmesan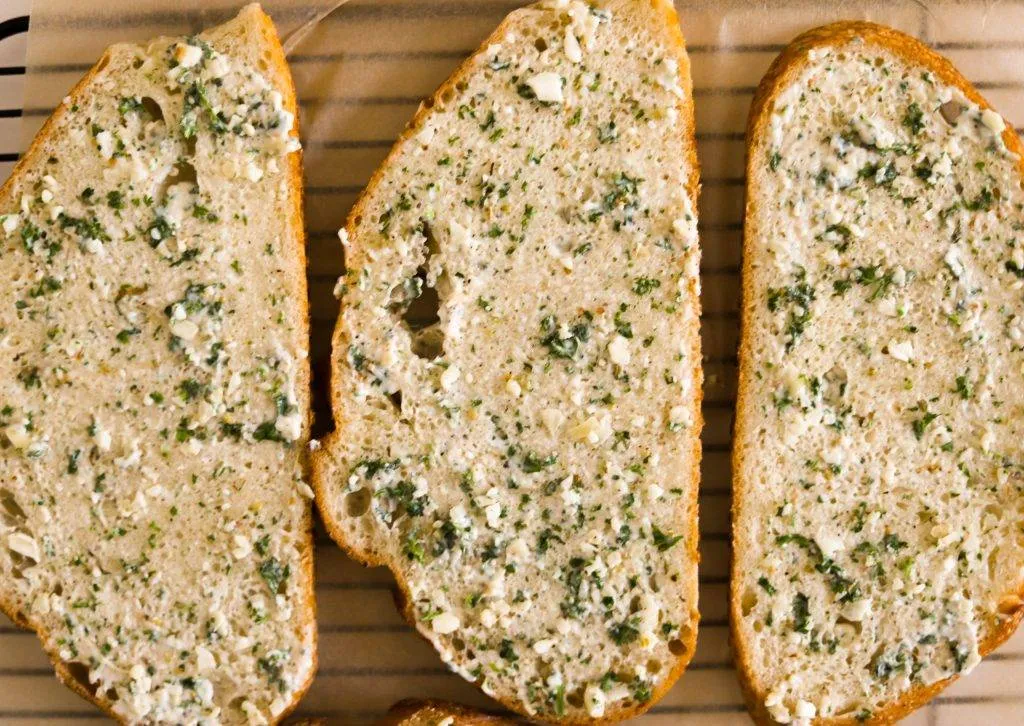 Now if you've never tried using mayo to toast bread for a sandwich or grilled cheese, you are definitely missing out! Do not judge until you try it as it's a huge game changer. If you don't want to use mayo, just use butter but I still recommend mayo.
Just mix all the ingredients together in a small bowl for the garlic spread. Spread some evenly on just one side of the bread. Then toast the bread in the oven on broil until just golden and crispy. You can also toast them in a pan if you'd like and that's it for the bread.
Cooking the Steak
The star of the steak sandwich is of course the steak! Now the perfect sandwich has to have the most tender steak or else it's a no for me. The worst is when you take a bite and then you have to battle with a tough piece of steak to just take a bite off.
My favorite cut of steak to use is filet mignon center cut. It is the most tender steak ever that literally melts in your mouth and worth all the extra dollars. I can't recommend it enough! But some other options include flap steak, sirloin, ribeye etc. Just in keep mind, the cooking time will vary depending on the steak you use and its thickness.
Just sprinkle room temperature steak with salt and black pepper on all sides.
Add a little neutral oil to a cast iron skillet that is very hot and sear the steak on all sides over high heat. Center-cut filet mignon is a very thick steak so I cook it for about 2 to 3 minutes on each side. Once it has a beautiful sear and golden color, drop the heat and add butter. Baste it for another minute or two and then take it off heat and cover in foil to rest for 10 minutes.
After 10 minutes, slice the steak and it is ready for some sandwich action!
Assembling
Once the sauces, bread, and steak are done, it's time to assemble the sandwich. You can add whatever veggies and toppings you like but this is my preference:
lettuce
tomato
brown sugar bacon
avocado
You can also add cheese, sautéed peppers, pickles, whatever you like!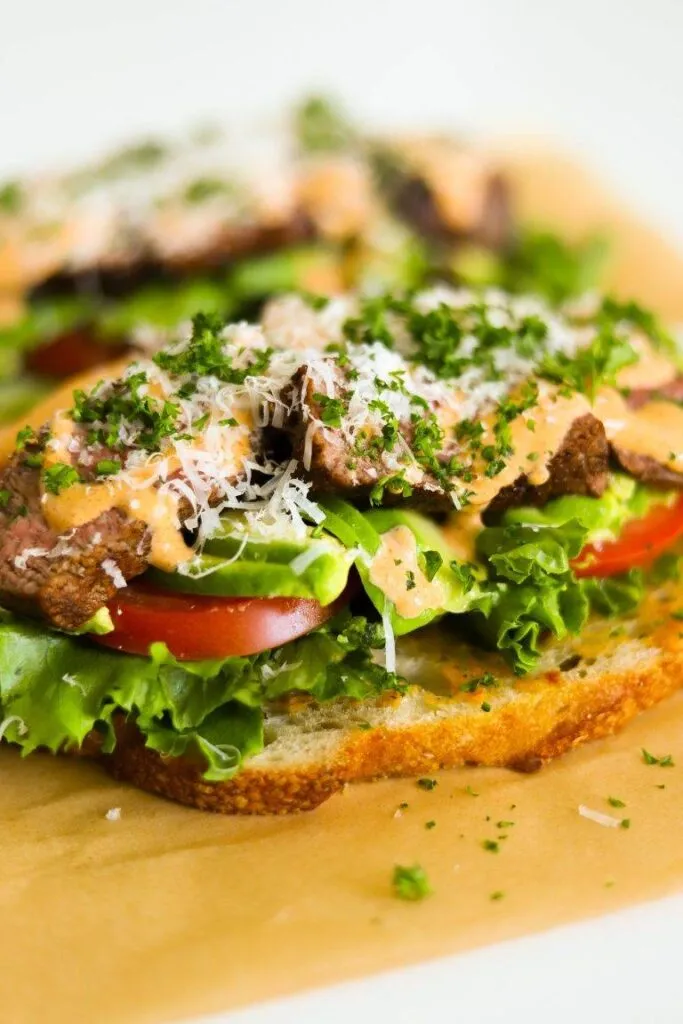 Instead of sliced cheese, I like to grate parmesan on top of the steak in the sandwich and add a sprinkle of chopped parsley.
Another secret hack that adds so much flavor is adding just a splash of pickle juice over the avocado, lettuce, and tomato just to give it a bit of an acidic flavor to cut from the fat in the sandwich. TRY IT!
Also another tip when assembling sandwiches, avoid adding tomatoes or any wet ingredients directly on the bread or else it will get soggy fast and fall apart so layer strategically.
I add chipotle sauce and lettuce on the bottom bread, then tomatoes, avocado, steak, more chipotle sauce, grated parmesan and parsley, bacon, and then close it off with more bread! Press down, slice in half, and enjoy.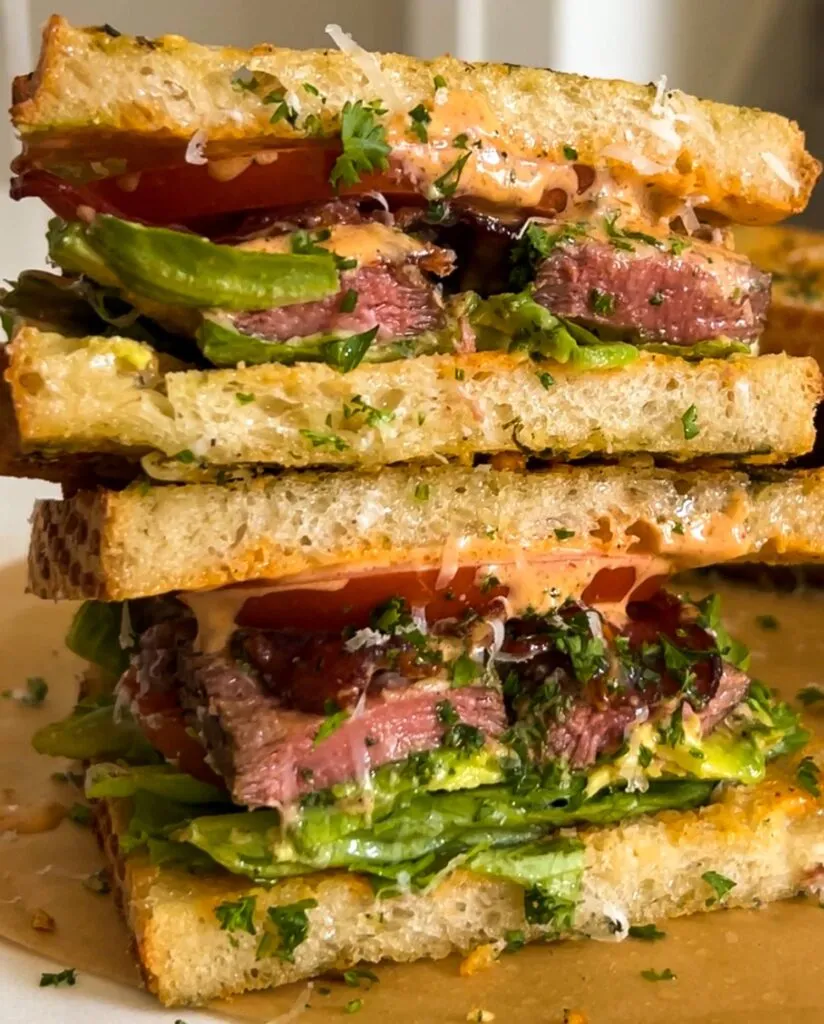 If you tried this recipe and loved it, drop by down below and let me know how you liked it with a rating and comment! Feel free to also leave a question there about this recipe and I'll get right back to it.
To see more recipes and behind the scenes, follow along on Instagram! I'm also now on Pinterest pinning away so stop by and see what's up.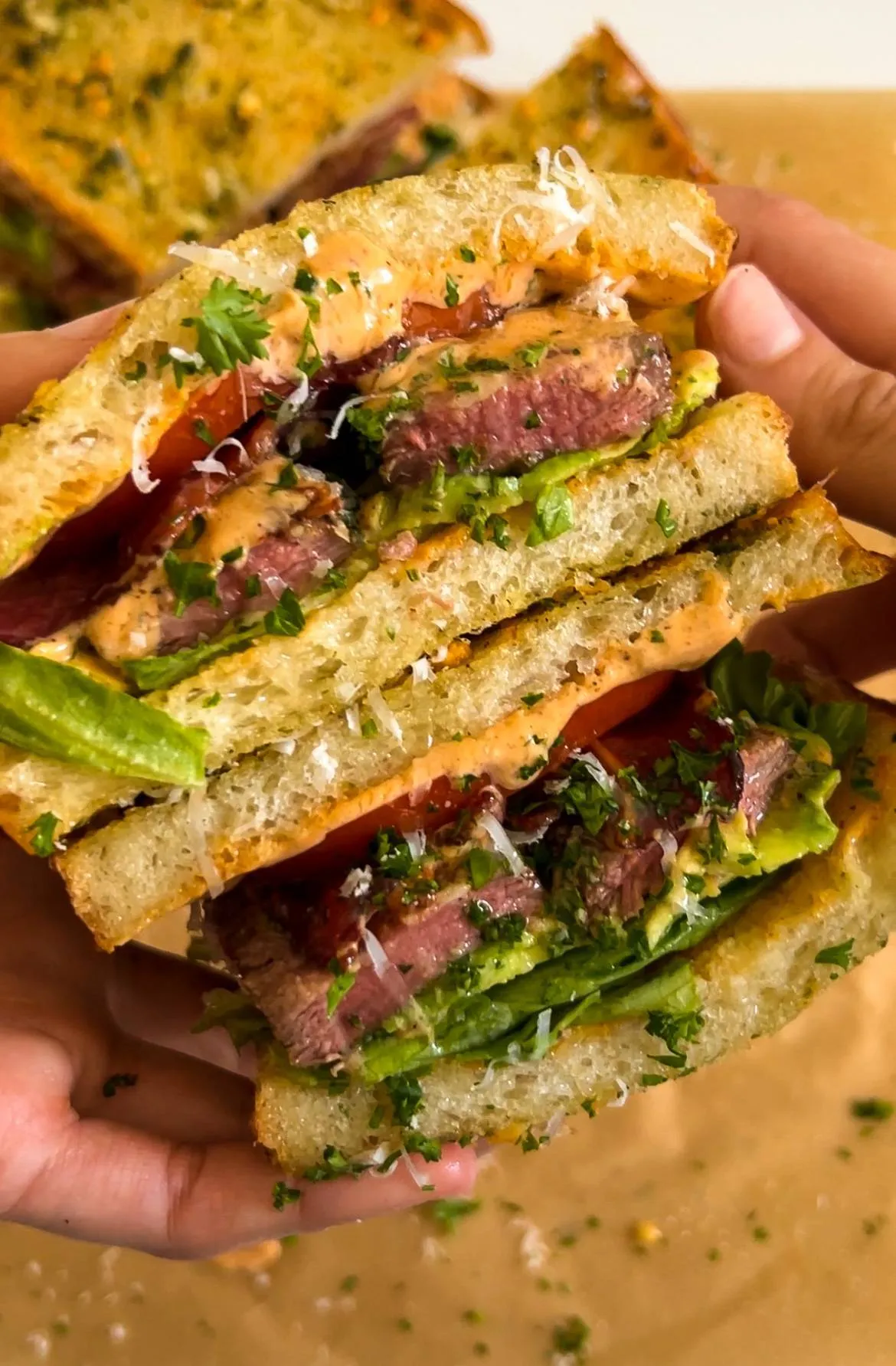 The steak sandwich of anyone's dreams! The juiciest steak sandwiched in between garlic and herb toasted bread and then filled with the brightest veggies, creamy avocado, and the most delicious chipotle aioli. It's the dinner of champs that everyone will love all around!
Ingredients
STEAK
12 ounces filet mignon, center cut at room temp
salt to taste
black pepper to taste
1 tablespoon vegetable oil
3 tablespoons unsalted butter
CHIPOTLE SAUCE
3/4 cup mayonnaise
1/4 cup sour cream
juice of 1 lime
1/2 to 1 tablespoon honey
1/2 teaspoon black pepper
1/2 teaspoon chili powder
2 to 3 tablespoons adobo paste
GARLIC AND HERB SPREAD
1/4 cup mayonnaise
1 tablespoon parsley finely chopped
2 teaspoons garlic finely minced
1 tablespoon parmesan grated
1/4 teaspoon black pepper
1/4 teaspoon dried oregano
TOPPINGS
sliced sourdough large pieces
tomatoes sliced
lettuce
avocado sliced
grated parmesan
chopped parsley
beef bacon
Instructions
MAKE THE CHIPOTLE SAUCE
To make the chipotle sauce, mix together mayonnaise, sour cream, lime juice, honey, black pepper, chili powder, and adobo sauce in a small bowl. Once smooth, set it aside.
MAKE THE GARLIC AND HERB SPREAD
To a small bowl, add the mayo, parsley, garlic, parmesan, black pepper, and oregano. Mix together and set aside.
MAKE THE STEAK
Use a paper to wet to pat the filet mignon dry.
Season all sides with a sprinkle of salt and black pepper.
Over high heat, get a cast iron skillet very hot! Add a splash of vegetable oil and once you see smoke coming off the pan, add the steak.
Do not disturb it and cook for 2 to 3 minutes on the first side. Once a golden crust form, flip to the other side and cook another 2 to 3 minutes.
Drop the heat to medium-low and add the butter. Tilt the pan and baste the butter on the steak for another 2 to 3 minutes. This will achieve a medium rare steak. Cook longer if you'd like it more well done.
Transfer the steak to a plate or cutting board and cover with foil for 10 minutes. Then slice and it's ready to go.
ASSEMBLING
To toast the bread, turn the oven to broil. Spread the garlic mayo on one side of the bread and pop it in the oven for a few minutes until golden and toasted. Make sure to watch it closely so it doesn't burn.
To assemble, add a little chipotle mayo on one side of the bread, then lettuce, tomatoes, avocado, steak, a drizzle of chipotle aioli, a sprinkle of parmesan and parsley, bacon, and then the bread on top.
Press it all down and slice in half to enjoy!
Tips & Notes
I add a splash of pickle juice over the avocado, lettuce, and tomato to add some acidity that cuts from all the fat! Highly recommend!