Big Mac Tacos
Big Mac Tacos are worth all the hype on TikTok right now! It's the ultimate fusion food of a classic McDonald's burger and a taco. Let me tell you that is a match made in heaven and they're super easy to make!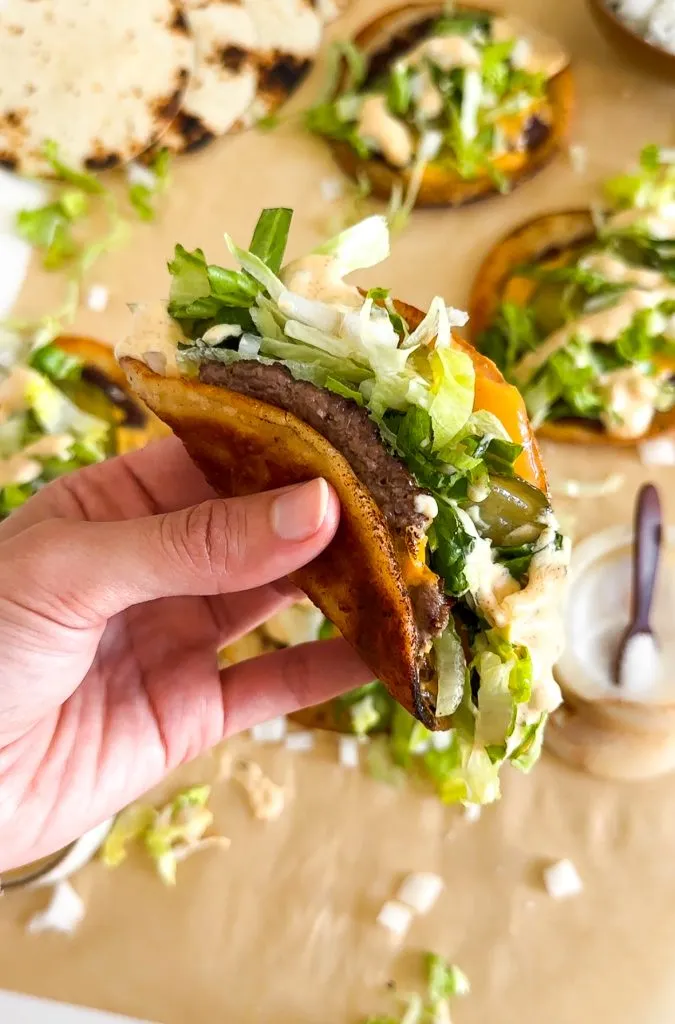 The Big Mac Sauce
You can't have a Big Mac without Big Mac Sauce! That signature pink color is iconic and it is a lot more simple to replicate than you may think. Most burger sauces are very similar across the board actually. Here are the ingredients you need:
mayonnaise
ketchup
mustard
pickle relish
white vinegar
sugar
onion powder
paprika
garlic powder
white pepper
That's it! Just those ingredients. Now when I first posted a recipe for my Big Mac Sauce, so many people were upset because I added ketchup and apparently big mac sauce has no ketchup. I found a video on TikTok of a recipe developer for McDonald's and he released the official recipe for Big Mac Sauce. It is correct, no ketchup in big mac sauce. It is actually paprika that gives it a reddish/pink tint. So I've gone ahead and made the big mac sauce as he did but still added ketchup because I think it tastes better and looks better. Sorry, not sorry!
Just mix everything together and you get a creamy thick sauce with specks of relish. It's a bit sweet and a bit tangy. Also to note, sweet pickle relish is used in the original recipe but I only had regular relish so that is why I added sugar. If you use sweet pickle relish, don't add sugar!
Assembling the Tacos
If you've never made tacos using this method before, it may seem a little weird to you but you just have to trust the process! For this step, here are all the ingredients you need:
80/20 ground beef
mini taco flour tortillas
salt
black pepper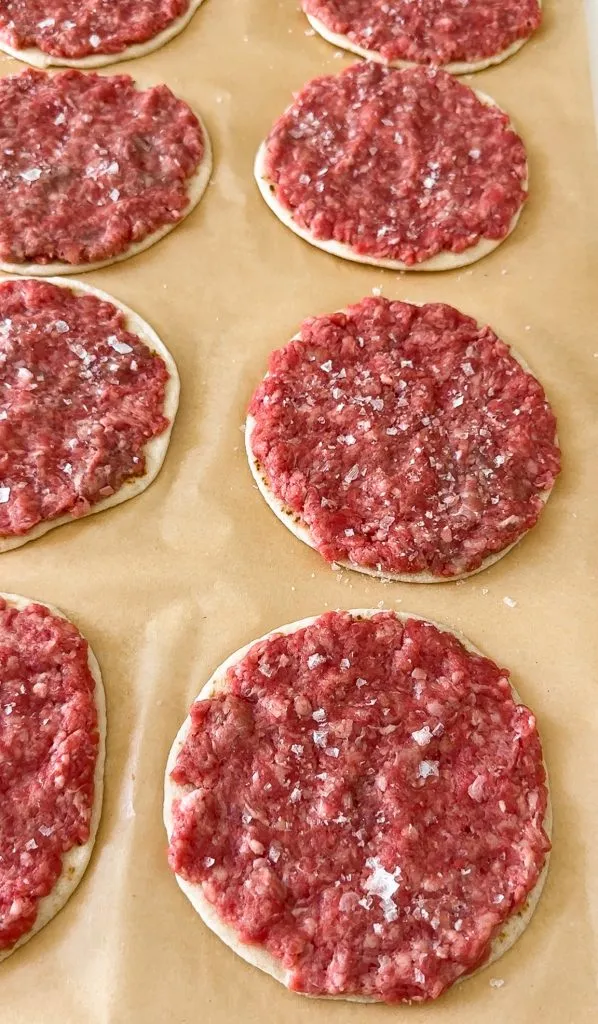 Take a small handful of raw ground beef, about 1/4 cup, and spread it across a tortilla so it covers the surface entirely. You want a thin layer because the patties in a Big Mac are pretty thin. Then sprinkle salt and black pepper on top and repeat until all the ground beef is used up.
Cooking the Tacos
Now it's time to cook the tacos! Yes, the meat fully cooks even though it's on a tortilla so don't worry about that.
You can cook the tacos on a skillet, pan, or griddle – whatever works best for you. Just add the tacos meat face down on a heated skillet over medium heat and cook for 3 to 4 minutes until browned and cooked fully through. Flip over and lower the heat. Add a piece of American cheese on top and cover to allow the cheese to melt and for the bottom tortilla to crisp up.
Then take off the pan, add lettuce, pickles, white onion, and big mac sauce on top to enjoy!
MORE RECIPES LIKE THIS TO TRY!
If you tried this recipe and loved it, drop by down below and let me know how you liked it with a rating and comment! Feel free to also leave a question there about this recipe and I'll get right back to it.
To see more recipes and behind-the-scenes, follow along on Instagram and Youtube! I'm also now on Pinterest pinning away so stop by and see what's up.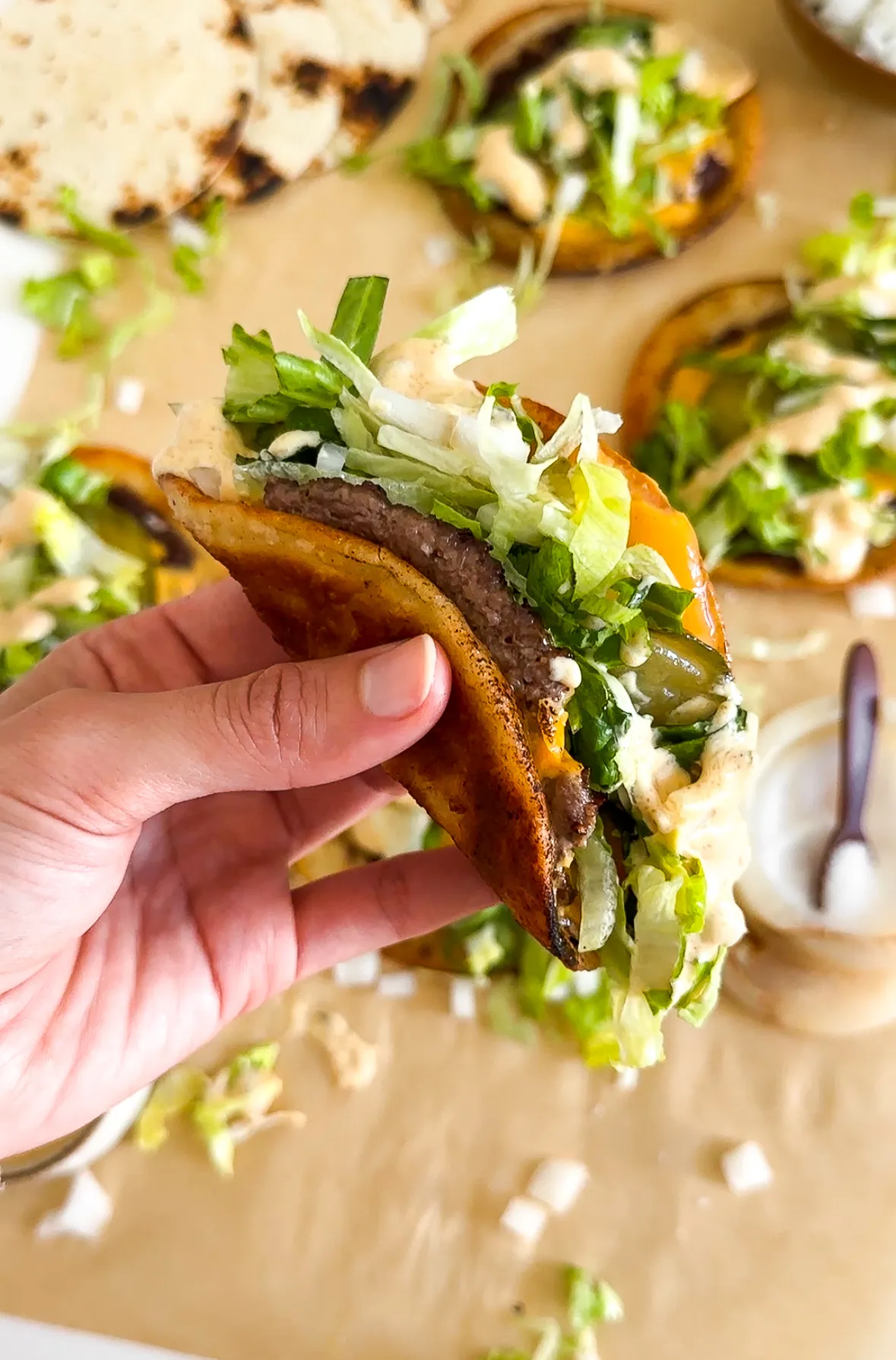 Big Mac Tacos are worth all the hype on TikTok right now! It's the ultimate fusion food of a classic McDonald's burger and a taco. Let me tell you that is a match made in heaven and they're super easy to make!
Ingredients
BIG MAC SAUCE
1 cup mayonnaise
4 tablespoons pickle relish, drained
3 tablespoons ketchup
2 tablespoons dijon mustard
1 teaspoon sugar
1/2 tablespoon white vinegar
1 1/2 teaspoon paprika
1 teaspoon onion powder
1 teaspoon garlic powder
1/4 teaspoon white pepper
FOR ASSEMBLY
12 mini flour tortillas
1 pound 80/20 ground beef
salt, to taste
black pepper, to taste
1 tablespoon vegetable oil, split in half
12 slices American Cheese
1 white onion, diced
dill pickle chips
shredded iceberg lettuce
Instructions
MAKE THE BIG MAC SAUCE
In a small bowl, mix together the mayonnaise, relish, ketchup, mustard, sugar, vinegar, paprika, onion powder, and garlic powder. Set aside.
PREPARE THE TACOS
To each tortilla, add about 1/4 cup of ground beef and flatten out to completely cover the surface to the edges. Add more meat if you prefer a thicker patty. Sprinkle with salt and pepper on top.
COOK THE TACOS
Over medium-high heat in a skillet or pan, add a small splace of vegetable oil.
Add the tacos in, meat face down, two to three at a time or more if you have a large grill/skillet. It will take about 2-3 minutes for the patty to get a nice brown crust.
Flip over, lower the heat, and add a slice of American cheese on top of the patties.
Cover and let it cook for about 2 to 3 more minutes for the cheese to melt and the tortilla to get golden and crispy. Then take off the heat and cook the rest of the tacos.
ASSEMBLE THE BIG MAC TACOS
To the taco, add lettuce, onion, pickles, and big mac sauce on top.
Enjoy warm!
Tips & Notes
I cut each slice of American cheese into smaller squares so it doesn't cover the patty completely! Feel free to do the same.