Homemade In-N-Out Burger
On day I lost count of social distancing, the In-N-Out Burger craving hit so here's a homemade version that tastes like the real deal. Enjoy!
Anatomy of a Basic In-N-Out Cheeseburger
Top Bun
Onion
American Cheese
Meat Patty
Iceberg Lettuce
Tomato
Spread
Bottom Bun
Optional Items to Add to the Burger
Diced Pepperoncini Peppers (add on the level with onions)
Grilled sliced onions or caramelized diced onions
Mustard-fried burger (this is also known as animal style with pickles and caramelized chopped onions)
Add spread to the top bun as well! (In-n-Out doesn't do this but it's a game changer)
Tips to Get the Perfect Meat Patty
Type of ground beef: 60/40 is ideal but we're in quarantine and don't have the time to get picky with meat cuts and grind it ourselves. 80/20 is what I used in this recipe and is available at most stores. Worked out just as well.
Weight of patty: 3-4 ounces – you can eye the weight out easily by just knowing how wide and thick you want your patty to be. 3-4 ounces is about a fistful.
Size of patty: You want the diameter to be slightly larger than the bun's. Since the beef has a lot of fat, it will shrink a bit when cooked. This will ensure every bite has meat and no bites with just bread.
ONLY salt and pepper: Less is more when it comes to a patty!
Use a skillet to cook the patty if available: A pan or griddle works great as well but a skillet gets a much nicer sear.
Do not handle the patties too much: If you mold and shape them too much, they'll become dense once cooked. The shape doesn't have to be perfectly rounded.
High heat: It only takes 2-3 minutes to brown nicely, so high heat is the way to go without over cooking the patty.
The Secret Not So Secret Spread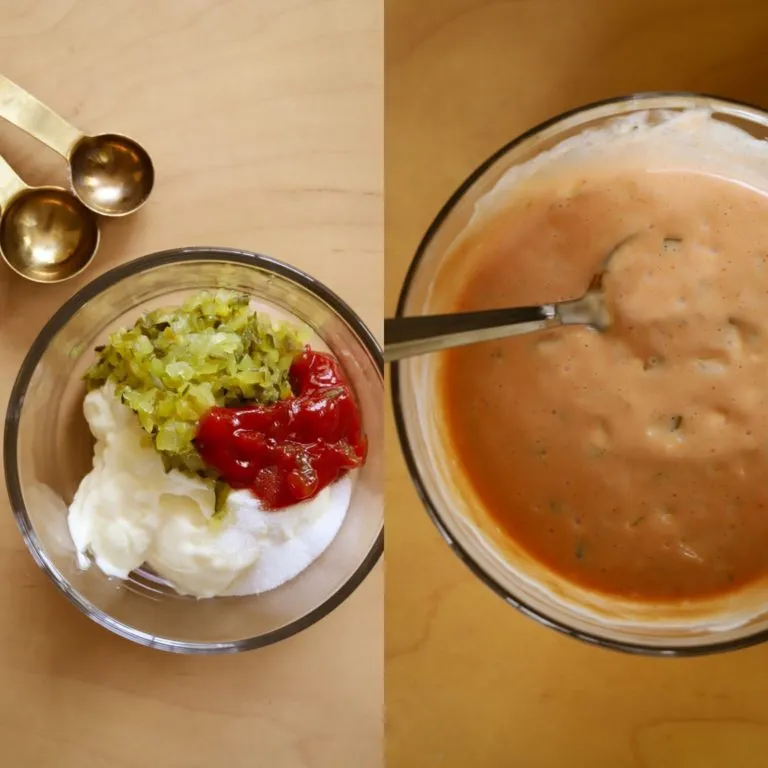 There are three main components to the spread:
Mayonnaise
Ketchup
Dill pickle relish
I then added vinegar for some more tang and a bit of sugar for a slight sweetness! My number one tip is make sure to drain the juice from the dill pickle relish. It will make your sauce watery rather than thick if you don't drain it before adding.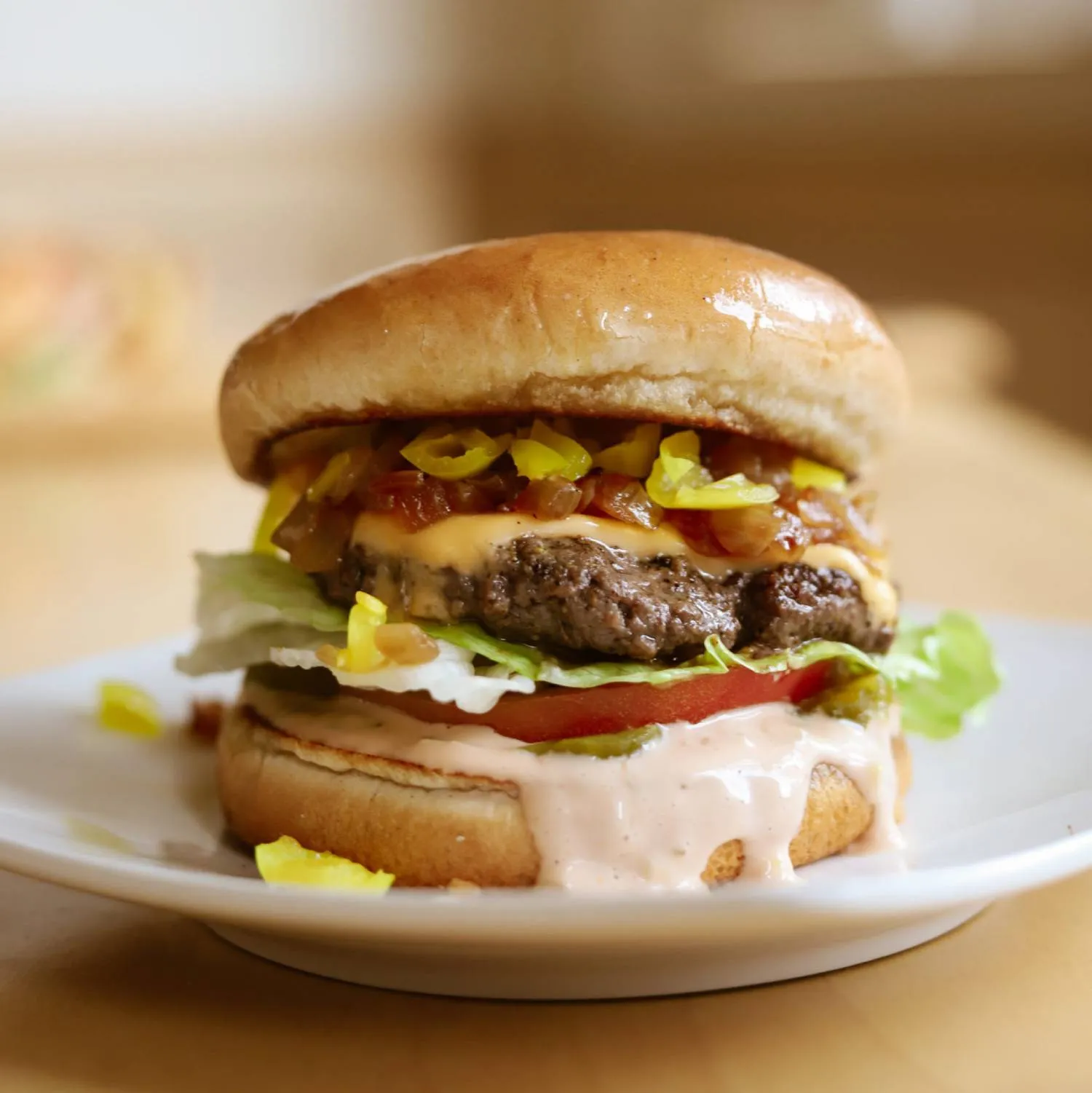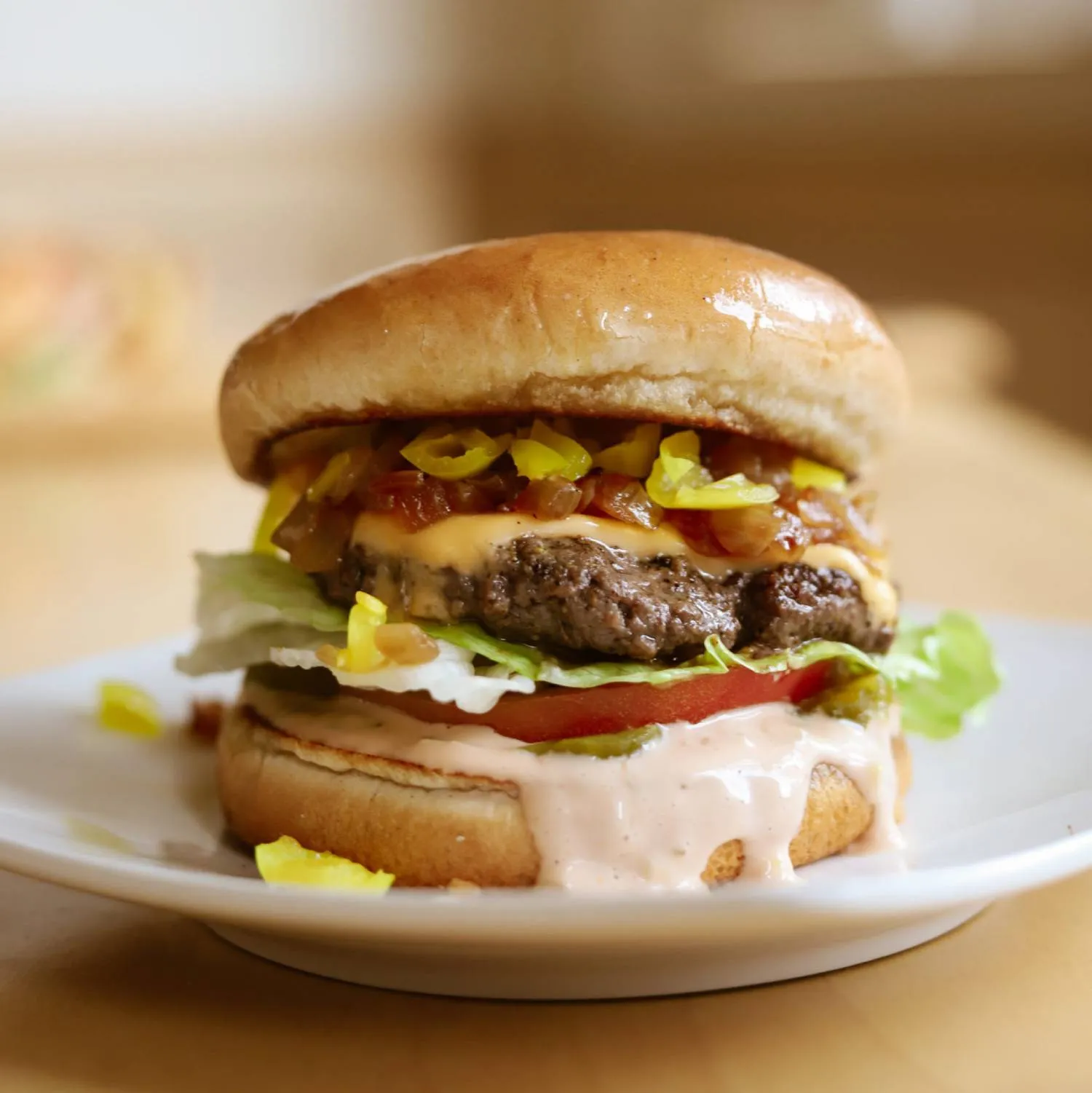 On day I lost count of social distancing, the In-N-Out Burger craving hit so here's a homemade version that tastes like the real deal. Enjoy!
Ingredients
1/3 cup mayonnaise
4 tablespoons pickle relish, drained
2-3 tablespoons ketchup (3 for more sweetness and tanginess)
1 teaspoon sugar
1 tablespoon white vinegar
1 large onion, finely diced
1/2 tablespoon vegetable oil
1/4 teaspoon salt
4 tablespoons water
1.5 to 2 pounds 80/20 ground beef
salt to taste
pepper to taste
4 tablespoons butter, split in half
1-2 tablespoons vegetable oil
8 hamburger buns
1/4 cup yellow mustard
8 slices American Cheese
optional toppings: raw onion slices, grilled onion slices, diced pepperoncini peppers, tomato slices, iceberg lettuce, dill pickle slices
Instructions
MAKE THE SPREAD: In a small bowl, mix together the mayonnaise, relish, ketchup, sugar, and vinegar. It will be a pink color. Set aside.
PREPARE TOPPINGS OF CHOICE: Slice raw onions, tomatoes, and pepperoncini peppers. Tear off pieces of iceberg lettuce.
OPTIONAL - MAKE CARAMELIZED ONIONS: Dice 1 large onion finely. In a saute pan over low to medium-low heat, add 1/2 tablespoon vegetable oil, finely diced onions, and 1/4 teaspoon salt. Continuously stir, making sure to scrape the pan, for about 12 minutes until it starts to get golden brown. Then, turn up the heat to medium. Add 1 tablespoon of water to the onions and stir until it evaporates. Repeat this process with the other 3 tablespoons of water, one at a time. At the end, it should be a dark golden brown and completely translucent. Set aside.
PREPARE THE PATTIES: Weigh out 8 portions of 3 to 4 oz of ground beef or eye it out. Gently flatten the patty into a circle to desired thin or thickness, making sure to not mix or mold it too much. Sprinkle with salt and pepper on both sides. Set aside.
TOAST THE BUNS: Melt 2 tablespoons of butter. Brush the insides of both buns with the butter and place face down on a pan over medium heat. Take them off the pan when a nice golden brown develops around the edges.
COOK THE PATTIES: Over medium-high heat in a skillet or pan, add 1-2 tablespoons butter and 1 tablespoon of vegetable oil. Add the patties in and if doing animal style, add half a tablespoon or more to taste of mustard on the raw side and spread evenly. It will take about 2-3 minutes for the patty to get a nice brown crust. Flip over and add a slice of American cheese on top. Let it cook for about 1 more minute. Take off the heat.
ASSEMBLE THE PATTIES: Add spread to the bottom of the bun. Then add the pickles, tomatoes, lettuce, patty and cheese, onions and peppers, and then add spread to the top bun as well and seal the burger. Enjoy!