The Best Lasagna Ever
Let's learn how to make the best lasagna from scratch for your next dinner plans! It's hearty, creamy, and cheesy – everything you want in the perfect lasagna.
Lasagne is a wide and flat type of pasta that is the perfect shape for layering a bunch of flavors into one dish! When referred to as a dish, lasagna is an Italian dish consisting of layers of pasta, meat sauce, and cheeses like ricotta and mozzarella or with a bechamel sauce. It's always a crowd favorite and the best part is that leftovers taste even better, that's IF there are any in the first place.
The Layers of Lasagna
Making lasagna from scratch is super simple! It may seem intimidating at first but let's break it down into 3 parts.
CHEESE FILLING: We're going to talk about this layer first because it's my favorite! It's creamy, delicious, and helps to balance the hearty tomato and meat sauce. Ricotta is combined with fresh basil, garlic, salt, black pepper, parmesan, and egg as a binder to create the cheese filling. On top of the seasoned ricotta, we also add a layer of freshly grated parmesan and mozzarella because there's no such thing as too much cheese.
MEAT SAUCE: This is not a traditional ragu but it is a meat-based sauce with tomato. Typically, Italian lasagna will have a blend of Italian sausage and ground beef but to avoid pork, this recipe only has ground beef. I like to use the highest fat percentage of ground beef I can find which is 80/20. I've also made this with half ground lamb and half ground beef and it was amazing! Feel free to use what you think is best. If you do use Italian sausage, just make sure to adjust the salt as needed since the sausage has a lot of salt in it. I also like to add a splash of heavy cream to my meat sauce to lighten the color up and cut through the acidity. It's my little secret to elevating lasagna but it's not necessary.
THE PASTA: If you've ever made lasagna before, you've probably cooked the pasta like any other – by boiling it in salted water over the stove in a large pot. Usually you end up cooking the pasta sheets too much and by the time the lasagna is done baking, the pasta is overcooked. The better and more easy method that we follow in this recipe is to heat some water in a kettle. Add the lasagne sheets to a deep tray or casserole dish. Pour the hot water over them and let it sit for about 25 to 30 minutes. This will cook the noodles only partially where they can bend but if you were to bite, it would still be a bit hard. It's a game-changer!
How To Make Lasagna
Once all three layers are prepped we can assemble them all together to make our lasagna! It's very simple when you have the order down.
Meat Sauce
Pasta
Ricotta Mixture
Mozzarella
Parmesan
Meat Sauce
Then just repeat this one more time fully! If you have a very deep pan, you may be able to repeat this twice. For the last layer after you add the pasta, then add the meat sauce. Top it off with mozzarella and parmesan! Cover with foil and pop in the oven to bake. Around half way into baking, we take off the foil and continue to let it bake uncovered. The purpose of this is to let some of the water and juices bake off so the lasagna holds its shape better. After that, turn it to broil for a few minutes just so the cheese gets nice, golden, and a bit crispy.
Tips & Notes
DO NOT cut immediately into the lasagna when it comes out of the oven. It is more likely to fall apart. Allow it to rest for at least 15 minutes or more. Then slice and serve!
You can prep lasagna ahead of time and bake another day! Prep all the layers and assemble in the dish a day or two in advance. Cover with foil and keep it in the fridge. On the day you're ready to serve it, bake from the fridge to the oven. If you plan to bake it later than two days, store it in the freezer. Defrost it overnight in the refrigerator or on the counter the morning of and then bake once it's no longer frozen.
After baking, you can store leftovers in the fridge to enjoy the next day or in the freezer for long-term storage. Just reheat in the microwave or in the oven.
For a shortcut, you can skip the homemade sauce and just use store-bought marinara that you can mix with the browned beef.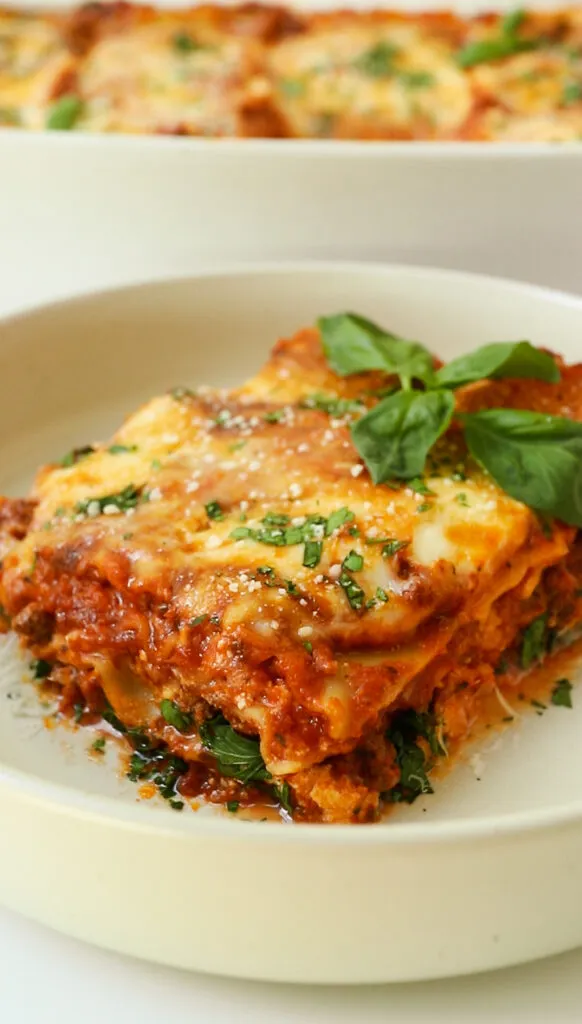 What To Serve With Lasagna
If you need some side dishes to serve with lasagna, here is some inspiration.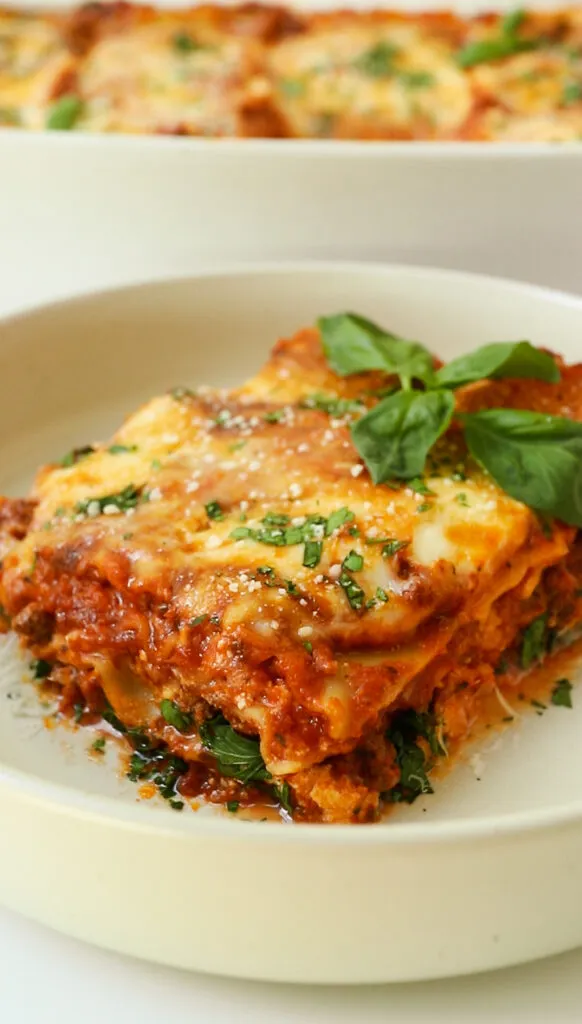 Let's learn how to make the best lasagna from scratch for your next dinner plans! It's hearty, creamy, and cheesy – everything you want in the perfect lasagna.
Ingredients
MEAT SAUCE
2 tablespoons olive oil
2 pounds 80/20 ground beef
1/2 cup yellow onion finely diced
1 1/2 tablespoon fresh garlic minced
2 teaspoons smoked paprika
2 teaspoons oregano
1 teaspoon thyme
1 teaspoon red pepper flakes
1 to 2 teaspoons salt to taste
1/2 teaspoon black pepper
1/2 teaspoon allspice
2 28 ounce cans of crushed tomatoes
3 tablespoons tomato paste
1/2 cup beef broth or water
2 teaspoons sugar
1/3 cup basil chopped
1/4 cup parsley finely chopped
RICOTTA MIXTURE
3 cups ricotta
2 tablespoons fresh basil chopped
1 large egg beaten
3/4 teaspoon salt
1/4 teaspoon black pepper
1 teaspoon fresh garlic minced
dash of nutmeg optional
1/4 cup parmesan grated
OTHER
16 lasagna sheets
4 to 5 cups shredded mozzarella
1 cup grated parmesan
Instructions
MAKE THE MEAT SAUCE
To a large pot over medium heat, add olive oil and ground beef. Use a spoon to break up the meat into small pieces. Add the diced onion and garlic along with the paprika, oregano, thyme, red pepper flakes, salt, black pepper, and allspice. Mix and cook until the meat is browned and broken up completely.
Then add the crushed tomatoes, tomato paste, and beef broth. Mix well. Now add the sugar, fresh basil, and parsley. Stir well until everything comes together.
Drop the heat to low and bring to a simmer. Simmer for at least 1 hour but up to 3. The longer the better as the flavors have more time to develop.
MAKE THE RICOTTA MIXTURE
In a bowl, mix together the ricotta, chopped basil, beaten egg, salt, black pepper, minced garlic, nutmeg, and parmesan until smooth and creamy. Set aside.
PREP THE PASTA
To prep the pasta, add the lasagna sheets to a deep dish or pan. Pour hot water over the sheets to cover them. Let them sit for 30 minutes and then drain the water. Make sure the sheets stay apart or else they will stick.
ASSEMBLE & BAKE
Preheat oven to 375°F.
To assemble the lasagna, first add a layer of meat sauce to the bottom of a 9 x 13 deep dish - about 1 to 1 1/2 cup of meat sauce. Then cover with lasagna sheets, about 3. Add about half of the ricotta mixture and spread evenly. Sprinkle about 1 cup of shredded mozzarella on top of the ricotta and then about 1/4 to 1/3 cup of freshly grated parmesan. Add the meat sauce on top. Repeat this process so you have 3 complete layers. If your pan is not deep enough, just have 2 complete layers.
For the finale, add the last layer of lasagna sheets and on top, add more meat sauce and just mozzarella and parmesan.
Cover with foil, making sure the cheese is not touching the foil. Pop in the oven to bake for 30 minutes.
Take off the foil and bake uncovered for 20 minutes. If the cheese is not as golden as you'd like after that, turn to broil just for a minute or a few more until it's bubbly and golden. Just be sure to watch it VERY closely if you do broil because it can burn very easily.
Allow the lasagna to rest for 15 minutes. Then cut into slices and serve warm!