Tandoori Chicken Naan Wraps
Spiced Tandoori Chicken wrapped in toasted naan with fresh veggies and chutney is the most delicious 30-minute dinner you could make! The chicken turns out incredibly juicy and the flavor is just too good to be true. The possibilities are endless – enjoy it in a wrap or add it to a rice or salad bowl!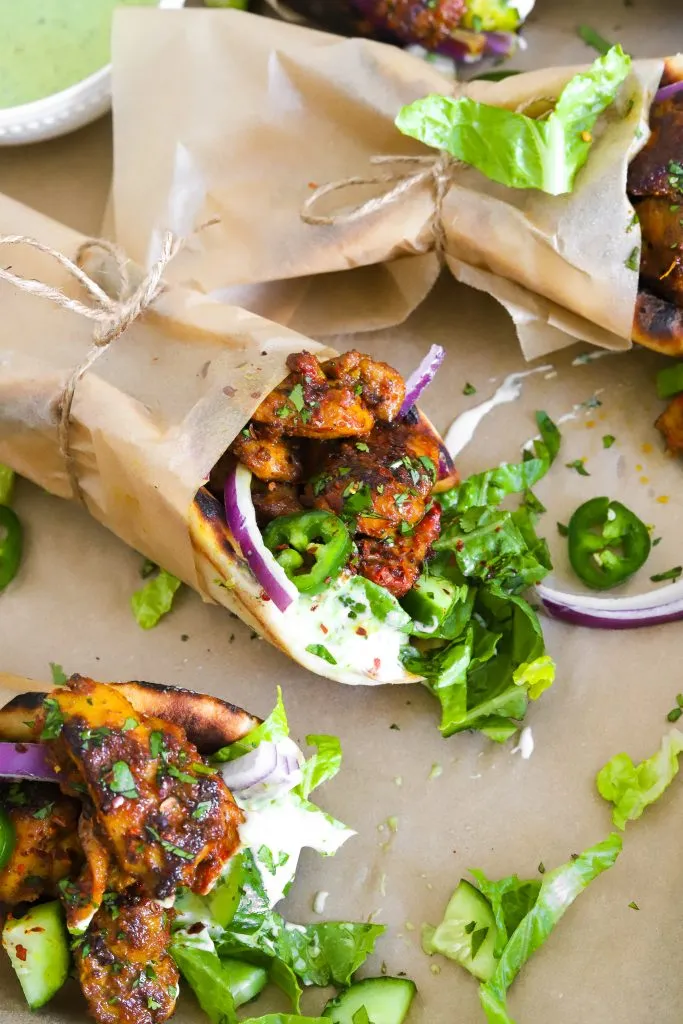 WHAT IS TANDOORI CHICKEN?
Tandoori chicken gets its name from tandoor which is a cylindrical clay oven that the chicken is typically roasted. It's marinaded in a very bright and vibrant sauce thanks to the yogurt and citrus like lime juice. If you've ever ordered Tandoori Chicken from an Indian restaurant, you've probably wondered how they get that bright red color. The secret is actually adding a bit of red dye which is optional. In this recipe, the turmeric, mild chili powder, and paprika give it a nice natural color. If you'd like to go for that restaurant-style look, add a drop or 2 of red dye.
To add on, more traditional Tandoori Chicken is typically made with bone-in chicken legs or drumsticks. That's why I say this recipe is only inspired by Tandoori Chicken. It has all the amazing and beautiful flavors of Tandoori Chicken but is just presented differently.
HOW TO MAKE THE TANDOORI CHICKEN
To make the tandoori chicken, the process is super simple! The chicken can be marinated a day in advance to save you time the next day. If you don't have time to let it marinade, you can spice them up and throw them onto a pan to cook right away and it's still delicious. That's how you know we've packed so much flavor into this recipe.
HERE ARE THE STEPS:
SEASON THE CHICKEN: Feel free to use boneless skinless chicken thighs or chicken breast! Chicken thighs can cook longer without drying out, allowing you to get more browning but as long as you follow this recipe, the chicken breast comes out super juicy too! The cubed chicken is seasoned to perfection using: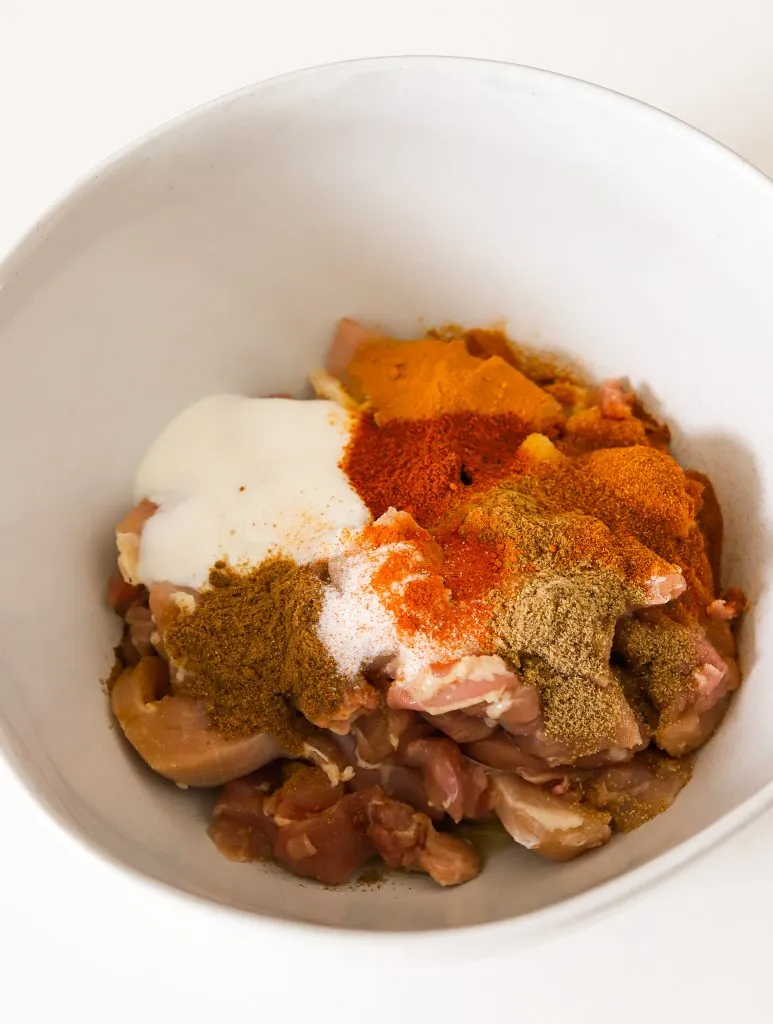 Fresh Ginger: Make sure it's pureed or finely minced. If you don't have fresh ginger, you can add 1 teaspoon of ground ginger. I've also made this recipe without using any ginger once and it was amazing.
Fresh Garlic: Minced! Make sure to use fresh. It makes so much of a difference here.
Garam Masala: A popular spice blend found in Indian cuisine. It is sold at most grocery stores.
Salt: Of course!
Turmeric: This gives it a beautiful bright orange color!
Coriander: To brighten the flavor with a citrus taste. This is the ground spice not the fresh herb cilantro.
Cumin: It adds a lot of depth to this flavor profile.
Paprika: Just regular paprika, not smoked.
Mild Chili Powder: Also known as Kashmiri Chili Powder, it adds a lot of flavor without adding spiciness. It also helps the marinade develop a red color. If you would like to add some heat, you can use a bit of cayenne pepper to taste.
Lime Juice: Juice from 1 whole lime. It adds such a nice tang to balance out all the spices.
Olive Oil: This can also be swapped for vegetable oil.
Plain Yoghurt: The secret to keeping the chicken super tender.
Optional Red Dye: If you would like a deeper red color, add a drop or two of red dye to the marinade.
COVER AND LET IT MARINADE: The longer you let it marinate, the longer the flavors can develop. You can prep it the day before and let it sit in the fridge or just for 30 minutes to an hour right before you cook them. There's also the option of cooking them right away which I have tried and still LOVED.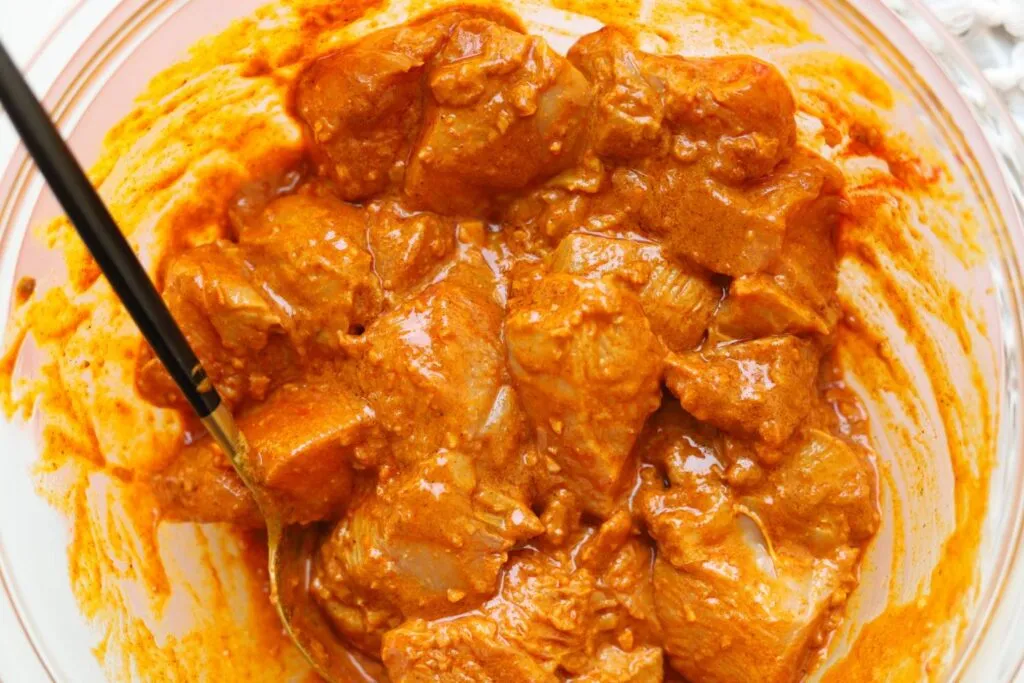 If you'd like to grill the chicken instead of cooking it on the stove, you can thread them onto skewers using this method here!
COOK! Last but not least, it's time to cook. You have the option of cooking them in the oven, on the grill, or on a stovetop grill. Either way, they'll turn out great! Halfway through cooking them, I like to baste them with any juices that leak into the pan along with ghee.
ASSEMBLING THE WRAPS
Now assemble the wraps! Toast some naan over the stove fire, in the pan, or in the oven. Add the tandoori chicken along the inside center along with the veggies of your choice. I like to add chopped lettuce, cucumbers, red onion, and jalapenos if you like it spicy. Finish it off with a cilantro jalapeno chutney or a sweet tamarind chutney to enjoy!
Watch How to Make It
More Chicken Recipes to Get Inspired By
If you tried this recipe and loved it, drop by down below and let me know how you liked it with a rating and comment! Feel free to also leave a question there about this recipe and I'll get right back to it.
To see more recipes and behind-the-scenes, follow along on Instagram and Youtube! I'm also now on Pinterest pinning away so stop by and see what's up.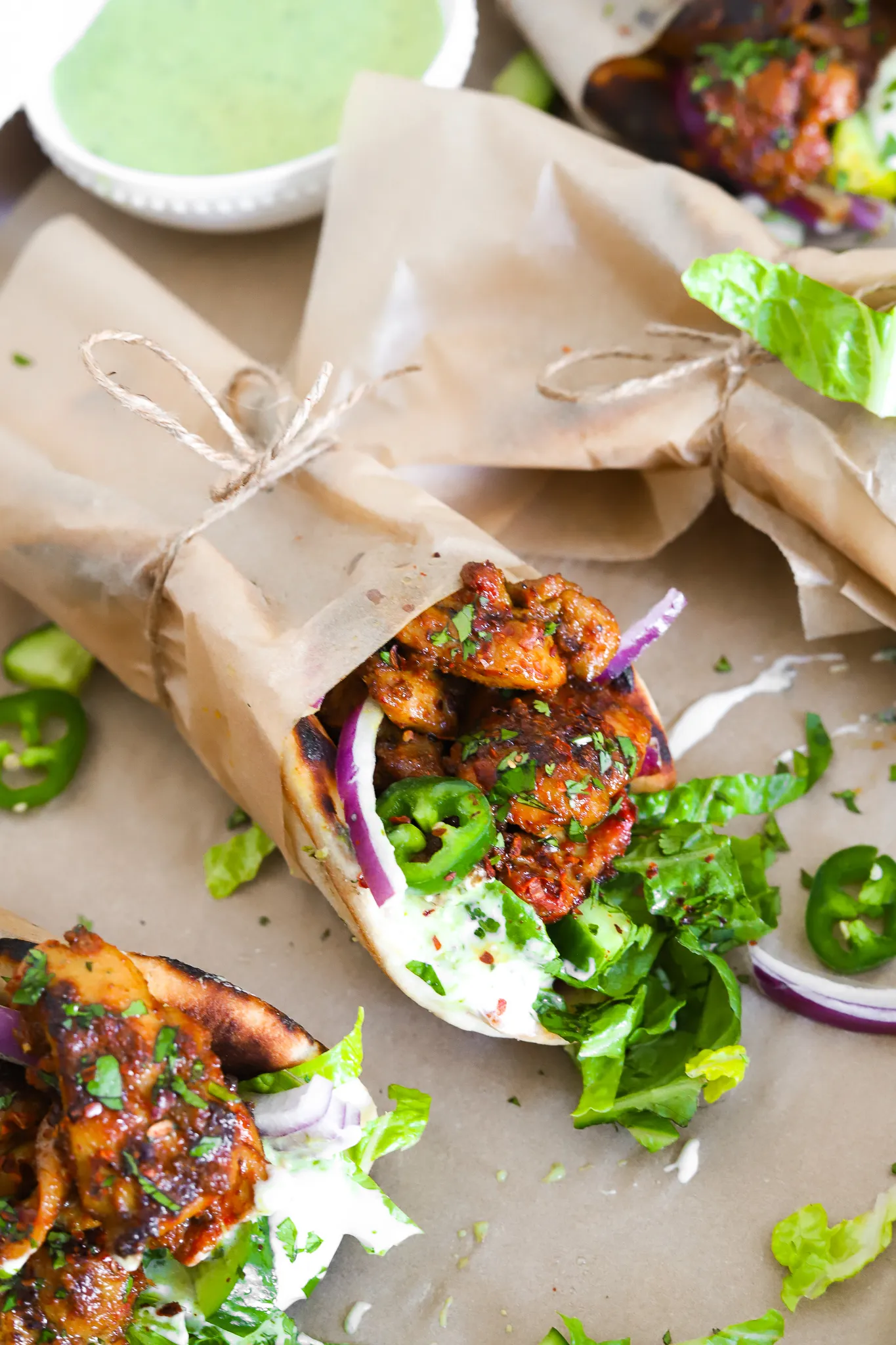 Spiced Tandoori Chicken wrapped in toasted naan with fresh veggies and chutney is the most delicious 30-minute dinner you could make! The chicken turns out incredibly juicy and the flavor is just too good to be true. The possibilities are endless - enjoy it in a wrap or add it to a rice or salad bowl!
Ingredients
TANDOORI CHICKEN
1.5 pounds chicken breast or boneless, skinless chicken thighs cubed
3 tablespoons olive oil
1/4 cup plain whole milk yogurt
2 teaspoons fresh ginger minced or paste
1 tablespoon fresh garlic minced
2 teaspoons garam masala
2 teaspoons salt
2 teaspoons cumin
2 teaspoons mild chili powder
1/2 tablespoon turmeric
1 teaspoon coriander
1 teaspoon paprika
1/4 teaspoon cayenne powder optional
juice of 1 whole lime
ghee for basting, optional
FOR ASSEMBLY
8 naans
chopped lettuce
diced cucumber
sliced red onion
Instructions
In a large bowl, add the cubed chicken along with the olive oil, plain yogurt, ginger, garlic, all the spices, and lime juice. Mix well and if you have time, allow the chicken to marinate for at least 30 minutes. The longer the better!
Heat oil in a cast iron skillet, pan, or grill over medium-high heat. Add the chicken and cook on each side until a nice brown crust develops about 10 to 12 minutes total. Then turn the heat to low and cook for a minute or two more until cooked in the center.
Assemble the wraps. Warm up the naan over the stove or in the oven.
Add the chicken to the center of the naan along with vegetables and chutney of your choice. You can also add plain yogurt inside to enjoy!