Sun Dried Tomato Pesto Pasta
Let's make a delicious sun dried tomato pesto pasta for 2! If you like the traditional green basil pesto, you'll fall in love with this one. The best part is you'll have sun dried tomato pesto leftover to make into so many other dishes.
What Is Sun Dried Tomato Pesto?
Sun dried tomato pesto is basically the sister of the traditional green basil pesto that you're used to seeing and eating. Both are so delicious but sun dried tomato pesto just has my heart at the moment. My dad loves sun dried tomatoes with a passion so he always buys a large jar from Costco so that my mom can cook with it. She adds them into so many dishes that traditionally don't have it and it always takes the flavor to another level. If you're not familiar with sun-dried tomatoes, the name says it all. They take ripe tomatoes and dry them out in the sun so they lose almost all of their water content. Then they're typically preserved in a jar with olive oil, herbs, garlic, and salt!
To make it into a pesto, just add all these ingredients into a food processor:
Sun Dried Tomatoes: The best that you can find! They sell them at most stores.
Walnuts: You can use any nuts of your choice. Most traditional is to use pine nuts. You can toast them for more flavor or add them raw.
Parmesan: Use grated parmesan. You can also use fresh parmesan that you grate yourself.
Oil: Use the flavored oil from the sun-dried tomato jar if there is enough. I buy the large jar from Costco and always use the oil in it to cook with. Sautéing veggies with that oil is a game changer. Whenever I use any oil from the jar, I just replace it with more extra virgin oil. If you don't want to use the oil from the jar, just use extra virgin olive oil.
Basil Leaves: Just a little bit for that pesto herby flavor.
Garlic: Lots of garlic cloves! Any less than 7 and you can't taste the garlic in my opinion.
Salt and Pepper: A must of course.
Lemon Juice: For a little tang.
*This recipe will make about 1 1/2 cup of pesto which will all not be used in this pasta recipe. I love making a bigger batch of pesto to use in other dishes but if you don't prefer this, cut the pesto recipe in half.
How To Make the Pasta & Sauce
To make the pasta, we use the homemade sun dried tomato pesto to create a creamy but light sauce with freshly grated parmesan and browned butter!
I love rotini so that's the pasta shape I used but feel free to use whatever you have on hand or whatever is your favorite. Just cook it according to package directions in salted water and make sure to reserve some pasta water for the sauce.
To start off, we add a mix of some butter and olive oil to the pan. I highly recommend browning the butter. It adds an incredible nutty and rich flavor to this dish but it is definitely not required. After that, we fry some garlic and add the pesto. You can also add some onions with the garlic and saute them if you'd like. Then we add some heavy cream, freshly shaved parmesan, and pasta water. Mix all that up and your sauce is ready to go.
Toss in the pasta and I like to mix in some diced sun dried tomatoes, chopped basil, chopped parsley, and more parmesan. You can add in other veggies like mushrooms, onions, red bell pepper, and spinach.
Storing the Pesto
Let's say you have some leftover pesto. There's so much more that you can do with it but in the meantime, transfer it to an air tight container or jar and keep it in the fridge. Cover it with a layer of olive oil on top to keep it fresh if necessary. It will be good for about 2 weeks in the fridge. Pop in the freezer if planning to use longer.
Other ways to use the sun-dried tomato pesto:
Fry some eggs to make some viral TikTok Pesto Eggs
Use it as a sauce to make pizza!
A dip for bread or raw veggies – YUM
Use as a marinade for chicken breast
Roast some potatoes in the pesto – too good
To make this into a meal, serve it with some garlic bread or a side salad.
Some other dishes you may like:
If you have any questions about this recipe, let me know in the comments! If you make this, send me a picture on Instagram! I love seeing your remakes SO much.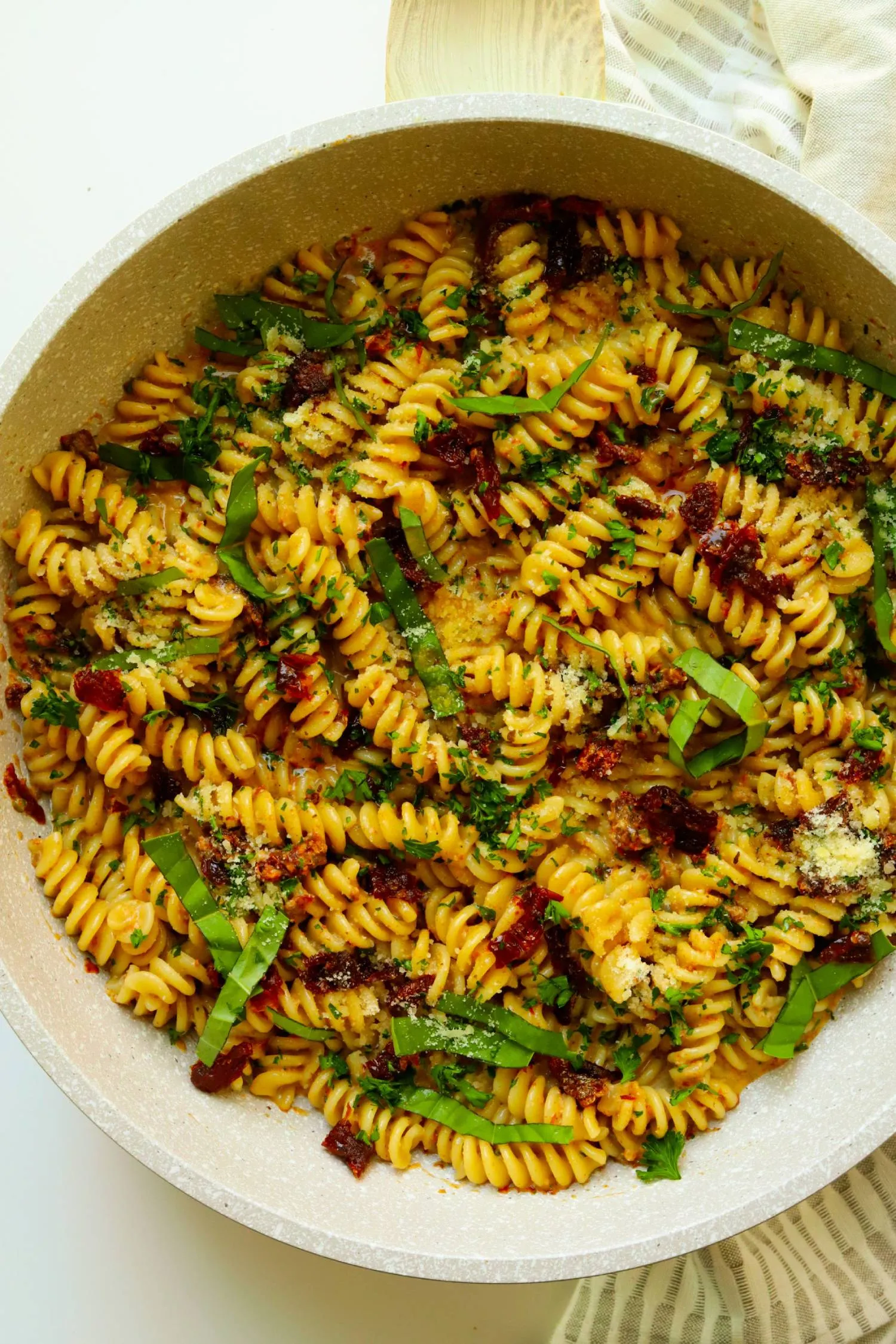 Sun Dried Tomato Pesto Pasta
Let's make a delicious sun dried tomato pesto pasta for 2! If you like the traditional green basil pesto, you'll fall in love with this one. The best part is you'll have sun dried tomato pesto leftover to make into so many other dishes.
Ingredients
SUN DRIED TOMATO PESTO
1 cup sun dried tomatoes
1/3 cup walnuts or pine nuts
1/4 cup grated parmesan
8 large basil leaves about 1/4 cup
1 tablespoon lemon juice
7 garlic cloves or to taste
3/4 teaspoon salt more to taste
1/2 teaspoon black pepper
1/2 cup extra virgin olive oil add more as needed
PASTA AND SAUCE
8 ounces dry pasta
2 tablespoons unsalted butter
1 to 2 tablespoons olive oil
1 to 2 teaspoons fresh garlic minced
1/3 cup sun dried tomato pesto
1/2 cup heavy cream
1/3 cup freshly grated parmesan
1/3 cup pasta water
salt and black pepper to taste
1/4 cup grated parmesan to add on top
1/3 cup sun dried tomatoes whole or chopped
2 tablespoons fresh parsley finely chopped
2 tablespoons basil thinly chopped
Instructions
PASTA
Cook pasta according to package directions in salted water. Make sure to reserve some of the pasta water before draining, at least 1/2 cup. You will not use all of it but just in case.
TO MAKE THE PESTO
Add the sun dried tomatoes, walnuts, parmesan, basil, lemon juice, garlic, salt, and pepper to a food processor. Pulse until everything is broken up well but still chunky. Add the olive oil and pulse a few more times just until all mixed. Do not over-blend.
TO MAKE THE PASTA SAUCE
In a pan over medium heat, add the butter and olive oil. Melt down the butter until it starts to foam. After it foams, it will start to form brown bits. At the point, add the garlic and saute for about a minute.
Then add the sun dried tomato pesto along with the heavy cream. Mix all together.
It will appear to be a very thick sauce. Add the grated parmesan and pasta water and mix again. Taste and add salt and black pepper as needed. I did not need to add any salt since the pesto has salt along with the pasta water and parmesan.
Take off the heat and add the pasta, whole or chopped sun dried tomatoes, chopped basil, parsley, and more grated parmesan. Mix all together and serve warm!