PF Chang's Copycat Lettuce Wraps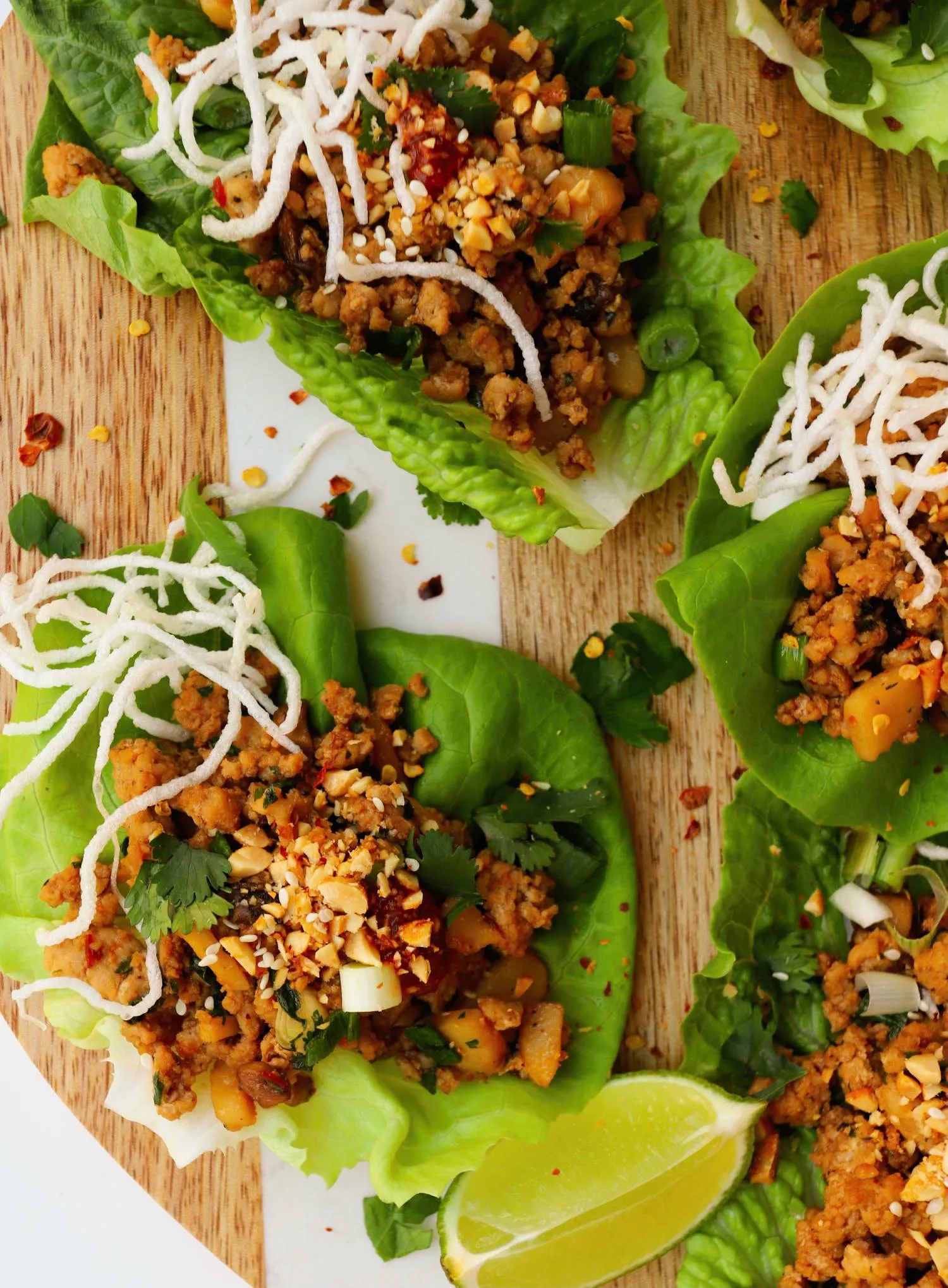 PF Chang's Copycat Lettuce Wraps
Super refreshing and light lettuce wraps inspired by PF Chang's! It's so savory and a bit sweet and even though they're lettuce wraps, it's also delicious over rice. Serve with a squeeze of lime juice and even some sweet chili sauce to dip in and it's the perfect side dish or main.
Ingredients
1 tablespoon peanut oil or oil of choice
1 pound ground chicken
pinch of salt and black pepper
1 tablespoon peanut oil
1/2 cup mushrooms chopped
2/3 cup water chestnuts chopped
1 teaspoon fresh garlic minced
1 teaspoon fresh ginger paste
2 tablespoons low sodium soy sauce
2 tablespoons hoisin sauce
1/2 tablespoon rice vinegar
1 tablespoon sriracha or chili garlic paste optional
2 whole green onions thinly sliced
2 tablespoons cilantro finely chopped
rice noodles
vegetable oil for frying
romaine lettuce or butter lettuce
lime wedges
Instructions
Heat a pan over medium-high heat. Add 1 tablespoon of peanut oil along with the ground chicken. Sprinkle just a dash of salt and pepper. If the chicken releases a lot of water as it cooks, make sure to drain and keep cooking until golden. Remove the chicken from the pan and transfer to a bowl.
To the same pan, add another tablespoon of peanut oil along with the mushrooms and water chestnuts. Saute for 2 to 3 minutes or until golden.
Add the ginger and garlic and saute for another minute.
Add back the chicken to the pan. Then add the soy sauce, hoisin, rice vinegar, and sriracha. Mix all together.
Toss in the cilantro and green onions and mix again. Taste and adjust anything to your liking. Transfer to a bowl and allow to cool slightly for a few minutes.
Optional: Add vegetable oil to a pan and get it hot. Separate the rice noodles and break into smaller sections. Test if the oil is hot enough by adding one rice noodle. It will puff up in a matter of sections. Have a utensil ready to remove them from the oil and transfer to a bowl. If it is hot enough, drop the rest in and after a few seconds, they will puff up and remove from the oil.
Grab your romaine or butter lettuce. Add some of the chicken filling and top with some crispy noodles. Enjoy!
Tips & Notes
Water chestnuts are pretty easy to find! You can find them at a local Asian market, the Asian section of your supermarket, or even on Amazon Fresh.
If you can't find water chestnuts, you can swap it for zucchini or leave it out. If you don't like mushrooms you can swap it for zucchini and leave it out.
To make this vegetarian, use finely chopped mushrooms or tofu and add chopped zucchini too!
Add salt to your taste because soy sauce and hoisin sauce both have a lot of salt.