Oven-Baked Shrimp Skewers
Let's cook Shrimp Fajita Skewers as Part 3 of the oven-baked skewers series!
In part 1, we made oven-baked chicken skewers.
In part 2, we made oven-baked kefta kabobs.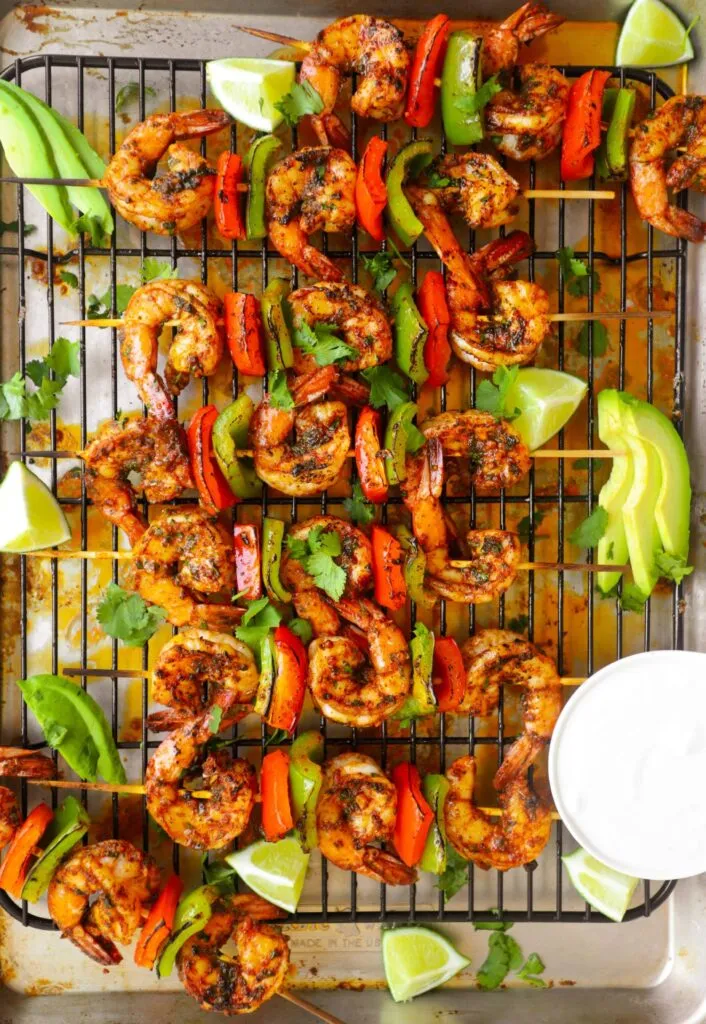 How to Make Shrimp Skewers
If you ever had the chicken from Chipotle and love the flavor, this shrimp marinade tastes just like it, if not better. It has a bit of a kick from the chipotle peppers but the lime and cilantro really freshens it up.
You'll need wooden or metal skewers. If you are using wooden skewers, just make sure to soak them in water for 15 to 20 minutes to prevent them from burning in the oven.
This oven-grilled skewer series was inspired by the fact that not everyone has a grill. However if you would like to grill these on a BBQ, definitely go for it!
For the shrimp, make sure it is deveined and skin off. I like to keep the tail on to help the shrimp stay juicy and then take it off after baking but you can bake with no tail too if that's the only shrimp you have.
You can also add red or yellow onion to the skewers along with the bell peppers!
If you want to cook the peppers and onions longer so they are softer, thread them onto skewers separately from the shrimp and allow them to roast longer in the oven than the shrimp. Shrimp cooks really fast.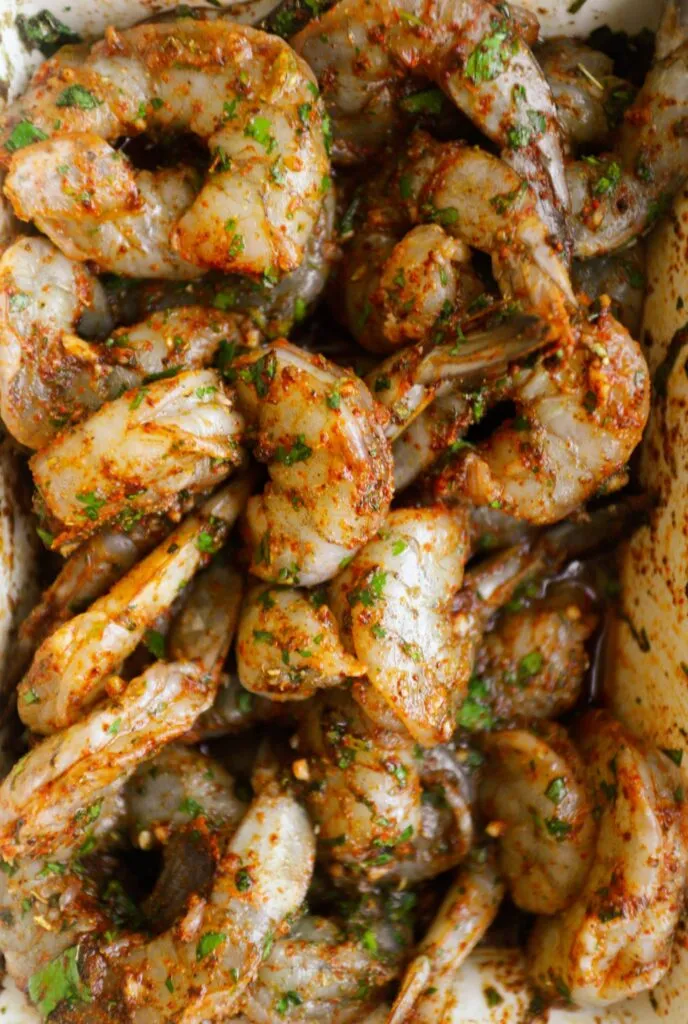 What is Chipotle Powder or Chipotle Peppers in Adobo
A lot of my recipes inspired by Chipotle or Taco Bell call for either chipotle pepper powder or chipotle peppers in adobo sauce. They can be used interchangeably for taste but the spice powder is a lot more stronger. The one I use is pictured below.
If you'd like to use the can which is what I prefer, you can purchase this can from a lot of large supermarkets and stores. I put the whole can of peppers and adobo sauce in a food processor to turn it into a paste and then use it in my marinades. Any leftover paste is transferred into an airtight container with a layer of olive oil on top to keep it fresh for longer.
Oven-Baked Shrimp Skewers
If you love fajitas, these shrimps skewers are going to be a hit! The shrimp is seasoned in a delicious chipotle inspired marinade that's packed with flavor and spice. Serve it with some rice or throw it into some tacos with some lime crema and dinner is served.
Ingredients
1 pound large shrimp peeled, de-veined, and butterflied
1 green bell pepper cut into squares
1 red bell pepper cut into squares
1/4 cup olive oil
1 to 2 teaspoons chipotle powder can swap for 2 tablespoons chipotle pepper in adobo paste
2 teaspoons fresh garlic minced
2 teaspoons chili powder
1 teaspoon coriander
1 teaspoon oregano
1/2 teaspoon onion powder
1/2 teaspoon cumin
1 teaspoon salt more to taste
juice of 1/2 lime
2 tablespoons cilantro finely chopped
Equipment
Instructions
Preheat oven to 425°F.
Place wooden skewers in a water bath to soak for 20 minutes. This prevents them from burning in the oven.
In a large bowl, add the shrimp, olive oil, chipotle pepper, fresh garlic, chili powder, coriander, oregano, onion powder, cumin, salt, lime juice, and cilantro. Mix together very well.
Grab a skewer and first thread one piece of shrimp on. Then add a green and red bell pepper. Add another piece of shrimp, then another green and red bell pepper, and one last shrimp. Make sure to brush the peppers with any extra marinade.
Place the skewers on the rack and pop in the oven to bake for about 6 to 7 minutes or until the shrimp turns pink. For extra browning, turn on broil for 1 to 2 minutes.
Serve immediately and enjoy.