Mozzarella-Stuffed Meatballs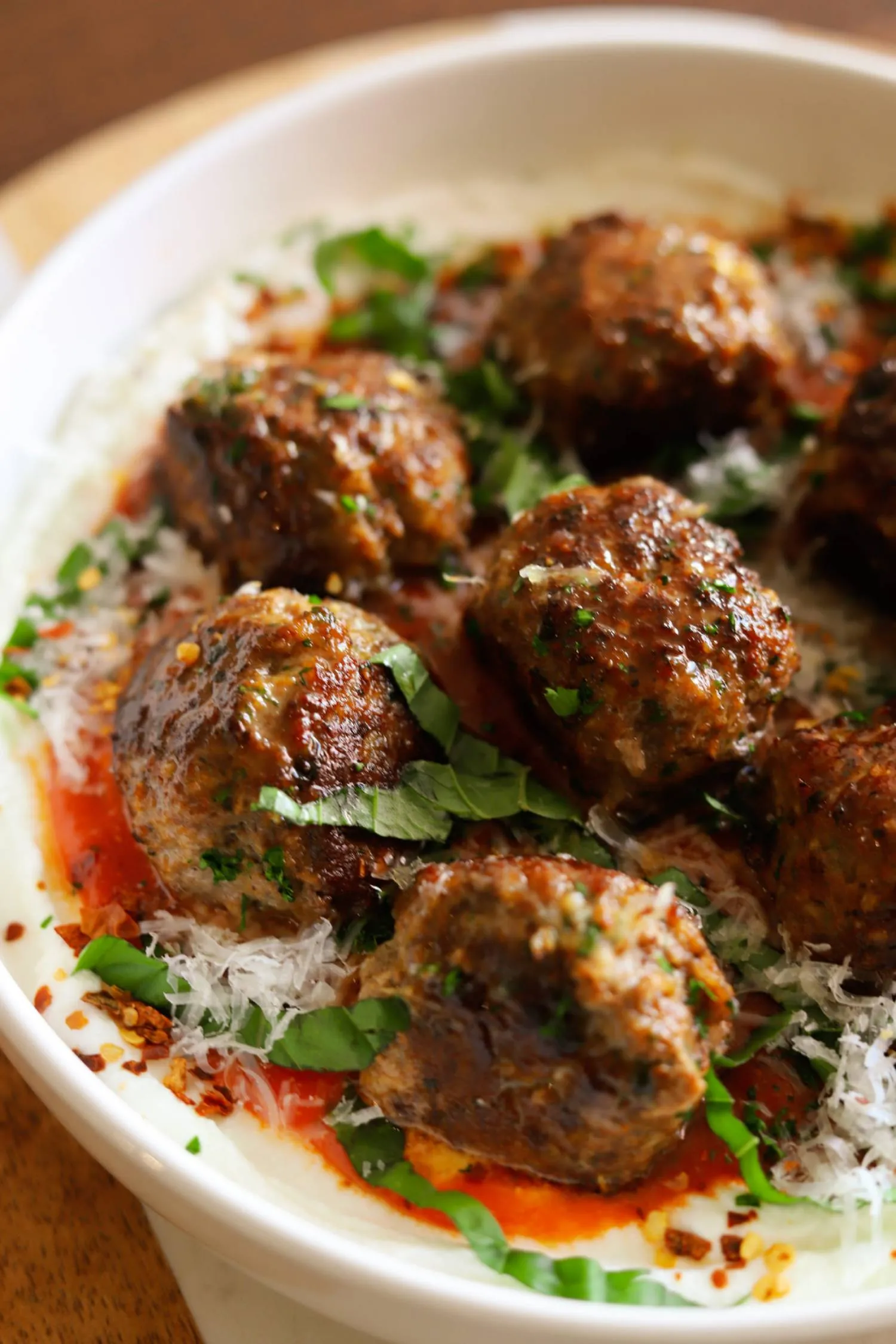 Mozzarella-Stuffed Meatballs
The perfect meatball recipe - super juicy and packed with flavor! Stuff them with mozzarella and you'll take this dish to a whole another level.
Ingredients
1/4 cup breadcrumbs
1/4 cup whole milk
1 pound ground beef 85/15
2 teaspoons minced garlic
1 large egg
2 tablespoons parsley chopped
1/4 to 1/3 cup parmesan grated, to taste
1 teaspoon salt or to taste
1 tablespoon Italian seasoning
1 teaspoon paprika
1/4 teaspoon black pepper
1/4 teaspoon onion powder
mozzarella balls optional
olive oil for frying
Instructions
In a small bowl, combine together breadcrumbs and whole milk. Allow to rest for 10 minutes so the breadcrumbs fully soak the milk.
Now in a large bowl, add the ground beef along with the garlic, egg, parsley, parmesan, salt, Italian seasoning, paprika, black pepper, onion powder, and the soaked breadcrumbs.
Combine everything together so all the ingredients are evenly throughout.
Shape into meatballs (desired size) using greased hands to prevent sticking.
If stuffing with cheese, add small piece of mozzarella to the center of the meatball and wrap tightly around making sure it's sealed well.
Heat a large skillet or pan over medium-high heat.
Add 2 to 3 tablespoons of olive oil to the pan.
Drop the meatballs in, spacing them apart. Allow the bottom to brown (about 5 minutes), then flip over. Once the other side is browned too, drop the heat to low and allow to cook through. If you are serving in marinara sauce, add the meatballs to the sauce when you drop the heat to low, cover, and simmer for about 15 minutes or until the meatballs are 165 degrees in the center.
Serve and enjoy!
Tips & Notes
For better results, use fresh breadcrumbs.
After searing the meatballs, you have the option to cook them to doneness alone or to transfer them to some marinara sauce to simmer in until cooked through.
If you don't have Italian seasoning or can't find it, it is a blend of oregano, marjoram, thyme, basil, rosemary, and sage.
If you stuff them with cheese, you can use mozzarella balls or chop a block into small cubes.
Instead of adding onion powder, you can cook down some diced onions and add to the ground beef. Just make sure to let the onions cool before adding them in.