Crispy Potato Tacos
Let's learn how to make these vegetarian crispy potato and cheese tacos! They're packed with flavor and absolutely incredible if you're trying to eat less meat. Even my husband who has to have meat with every meal devoured these!
This recipe was inspired by Tacos de Papa which is a Mexican recipe for deep fried potato tacos. These are obviously not traditional, just my own take on the recipe concept and I hope you enjoy it! I set an intention to post more vegetarian recipes in 2022 and this is the best way to kick off the series.
The Filling
The star of this recipe is the filling and it's so simple to make! It's flavor-packed with spices, fresh herbs, cheese, and sour cream that there's no way you can even miss any meat.
The first step is to boil potatoes and you can use Russet or Yukon Gold potatoes. This recipe calls for 2 large Russet potatoes. Just peel them, chop, and pop in some water and bring to a boil until softened.
Then you'll transfer the boiled potatoes to a large bowl and break it apart to mash it. You can leave it a bit chunky if you like or completely mash it – up to your texture preference! To the potatoes, add sour cream, shredded cheese, chopped cilantro, minced garlic, and all the taco-inspired spices – coriander, cumin, paprika, chili powder, oregano, onion powder, salt, and black pepper.
The best part about this recipe is that it's safe to taste and make sure it's seasoned perfectly before moving forward.
Assembling the Tacos & Frying
Once the filling is done, it's time to assemble the tacos and fry them to crispy perfection!
The potato tacos are traditionally commonly made with corn tortillas but my preference is always flour tortillas and I couldn't recommend it more. However, please use what you like the most.
I used the Mission Street Taco Flour tortillas which are pretty small so I added about 1/4 to 1/3 cup of potato filling to each one. Just flatten the filling out on only one half of the tortilla and then fold and press it down to seal it properly.
Make sure to use the freshest tortillas you can find at the store to avoid tearing. Also make sure to heat up your tortillas in the microwave for a few seconds so they're extra soft and don't break when you fold them over.
This recipe will make about 20 tacos!
Once they're all filled, it's time to fry! Just add a little bit of vegetable oil or any oil suitable for frying to a pan. You don't need to add too much oil, just about 1/2 an inch or slightly less. When the oil is hot enough, add a few tacos in at a time. Flip over to get the other side golden brown and crispy and then transfer them to a wire rack to drain any excess oil. Repeat with the other taco batches and that's it!
Make sure to drain excess oil on a wire rack and NOT a plate with a paper towel. A wire rack allows air to circulate so that when they cool down, they don't steam so they can stay crispy for longer!
Making the Chipotle Crema
To enjoy these tacos, we'll be making a chipotle crema to drizzle on top and dip in! It's absolutely divine, takes less than a minute to make, and takes these tacos from a 10/10 to 100/10!
In a small bowl, just combine all these ingredients and mix together:
mayonnaise
sour cream
adobo paste in chipotle peppers (only use the adobo paste. blend the peppers and add if you want it spicy)
lime juice
honey
chili powder
black pepper
sriracha (optional)
You can buy a can of chipotle peppers in adobo paste from most major supermarkets in the international food aisle. I only use the adobo paste in the can for this recipe but if you would like it to be spicy, you can add 1 to 3 of the chipotle peppers to a blender and then add it into the sauce. I just like to add some sriracha instead for a bit of a spicy kick.
How to Enjoy These Tacos
After frying them, I like to add lettuce, chipotle crema, avocado, and Cotija! Some other options you can add after frying are shredded cabbage, onions, tomatoes, cilantro, salsa, and so much more.
Variations to Try
Make it Vegan: To make the filling vegan, just opt out of the cheese and sour cream and use vegan butter instead to help add some moisture to the mashed potatoes. For the chipotle cream, substitute the mayo and sour cream for a vegan mayo and that's it!
Add Protein: To add a vegetarian or plant-based protein to this recipe, you can add a layer of refried beans in the tortilla along with the mashed potatoes. You can also mix black beans into the potatoes!
Use corn tortillas instead of flour: If you choose to use corn tortillas, make sure to press down with a spatula as they fry so the tortilla stays flat and doesn't curve.
More Vegetarian Recipes on the Blog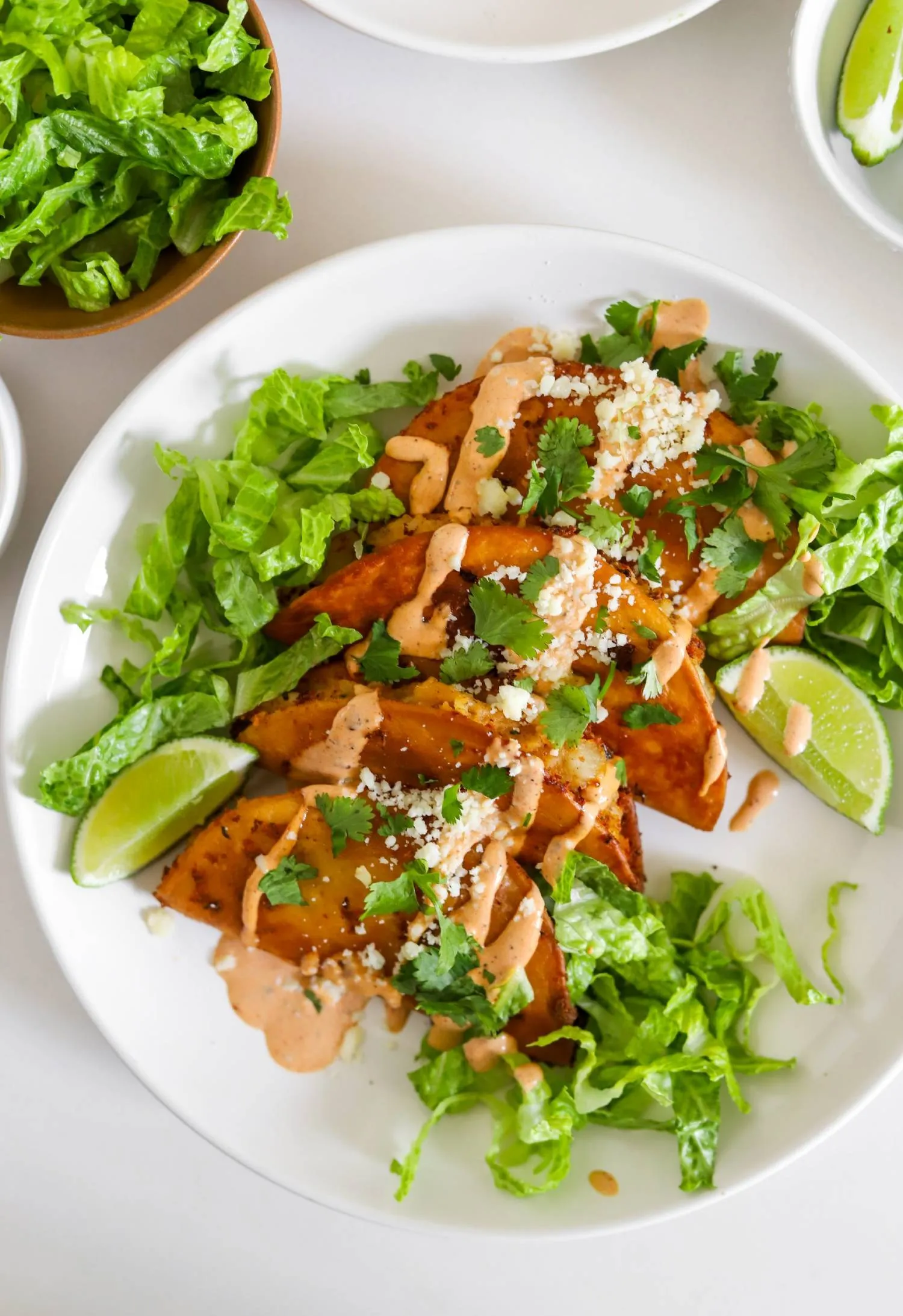 Let's learn how to make these vegetarian crispy potato and cheese tacos! They're packed with flavor and absolutely incredible if you're trying to eat less meat. Even my husband who has to have meat with every meal devoured these!
Ingredients
POTATO FILLING
1.5 pounds boiled russet potatoes about 2 large potatoes
1/2 cup sour cream
2 teaspoons minced garlic
2 teaspoons chili powder
1 1/2 teaspoon coriander
1 1/2 teaspoon smoked paprika
1 1/2 teaspoon cumin
1 1/2 teaspoon oregano
1 teaspoon salt add to taste
1/2 teaspoon black pepper
1/2 teaspoon onion powder
1 tablespoon cilantro finely chopped
1 cup shredded Mexican cheese
CHIPOTLE SAUCE
3/4 cup mayonnaise
1/4 cup sour cream
juice of 1 lime
1/2 tablespoon honey
1/2 teaspoon black pepper
1/2 teaspoon chili powder
2 tablespoons adobo paste
chiptole peppers to taste pureed into a paste, to add spicyness
OTHER
small flour tortillas or corn tortillas
vegetable oil for frying
lettuce
cotija crumbled
avocado
lime wedges
cilantro
Instructions
MAKE THE CHIPOTLE SAUCE
To make the chipotle sauce, mix together mayonnaise, sour cream, lime juice, honey, black pepper, chili powder, adobo sauce, and chipotle pepper paste or sriracha in a small bowl. Once smooth, set it aside.
MAKE THE POTATO FILLING
Peel and cut the potatoes into smaller sections. Add them to a pot and fill with room temperature water. Add salt and set on the stove over high. Once the water is boiling, reduce heat to medium high and cook for about 12 minutes or until fork tender. Drain all the water and transfer to a large bowl.
Break apart the potatoes and add the sour cream, garlic, chili powder, coriander, salt, smoked paprika, cumin, oregano, black pepper, onion powder, cilantro, and cheese. Mix together, taste, and adjust anything to your liking.
ASSEMBLE AND FRY
Warm up the flour tortillas in the microwave for a few seconds so they don't tear. To each tortilla add about 1/4 cup of filling and flatten it out on one half. Fold in half and press down tightly to shut. Repeat with the rest.
To a pan over medium heat, add the vegetable oil. Once hot enough, add the tacos a few in at a time so they're not crowded. Press down as they fry with a spatula so they don't puff up too much. Flip over so both sides are golden brown.
Transfer to a wire rack to drain any excess oil.
To enjoy, add chipotle sauce, avocados, lettuce, cotija, a squeeze of lime, and cilantro on top.