Cookies 'N' Cream Rice Krispies Treats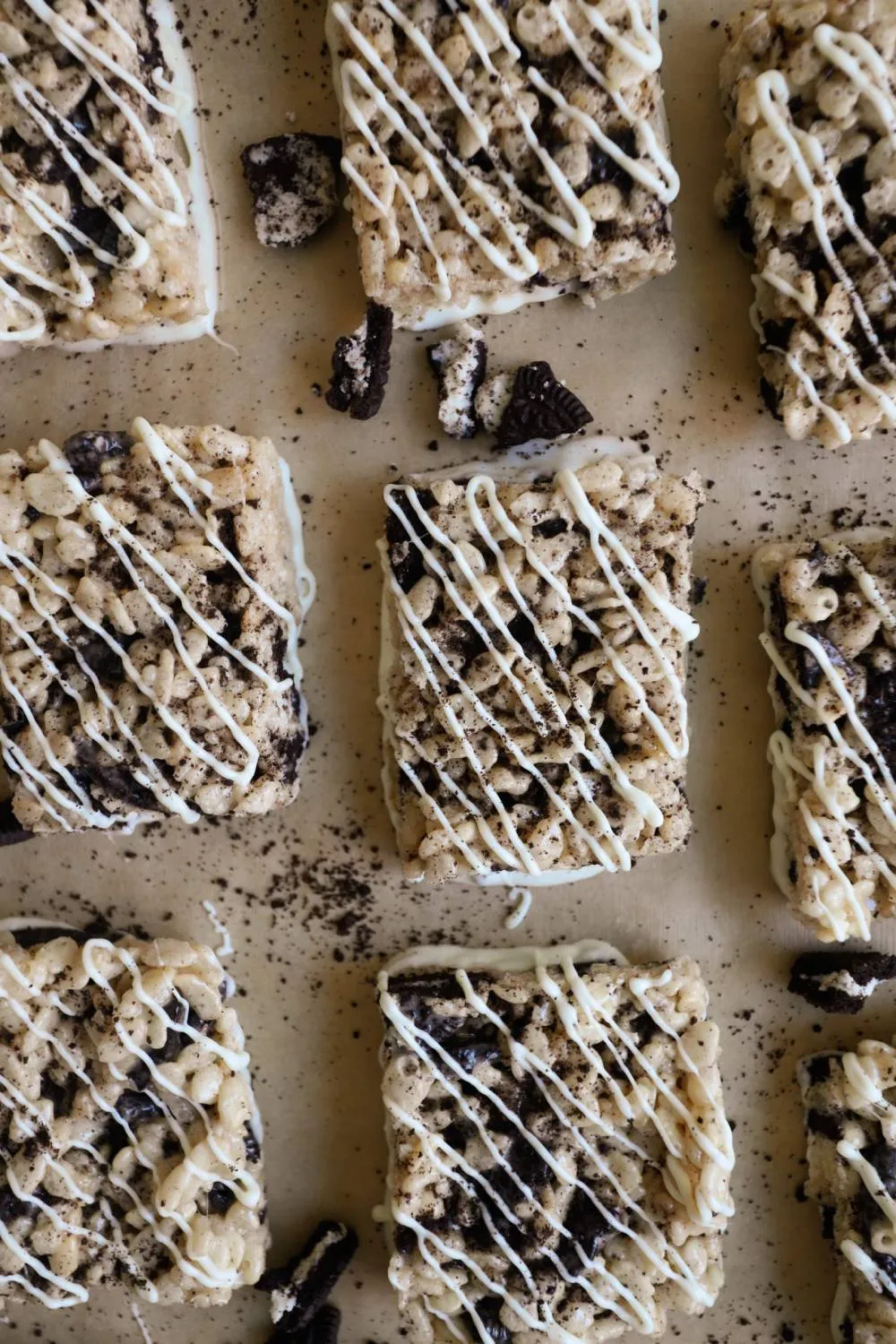 Cookies 'N' Cream Rice Krispies Treats
The perfect treat to make when that sweet tooth hits! These are a copycat recipe of the original cookies 'N' cream Rice Krispies treats but even better. If you like Oreos and you like Marshmallows, this is going to be your new favorite recipe to make.
Ingredients
6 tablespoons unsalted butter
1 teaspoon vanilla extract
16 ounces marshmallows mini preferred
5 cups rice krispies cereal
12 to 16 Oreos chopped or crushed into small pieces
8 ounces white melting chocolate
Instructions
Line a 9 x 13 rectangular pan with parchment paper or butter the sides and top to ensure no sticking. If you like rice krispies treats to be very thick rather than thin, use a 9 inch square pan instead.
In a large pot or saucepan over medium heat, melt the butter.
Once all melted, add the vanilla extract and mix.
Then add all the marshmallows. Continue to mix until the marshmallows have melted into the butter and you no longer see any clumps.
Pour in the cereal and chopped Oreos and stir until it is all evenly incorporated.
Transfer to the pan and use a rubber spatula or your fingers to gently press down until it is spread out evenly in the pan. Do not pack it in too tight or they won't be fluffy! If it is sticking too much, just dab a little water on the spatula or your fingers and it does the trick.
Allow the treats to cool for 30 minutes to an hour until they set. Then slice.
Melt the chocolate according to package directions in the microwave or using a double boiler. Dip the bottom of each square into the chocolate and set on a parchment lined tray. Repeat with the rest of the squares. Drizzle all the tops with a thin layer of white chocolate as well.
Once the chocolate hardens up, enjoy!
Tips & Notes
These are the marshmallows I like to use! They are incredible - the best ones I have ever tried and are made with fish gelatin but use whatever you like and have.
If you don't like too much sweetness, skip the chocolate dipping part and just enjoy as is.
MAKE SURE not to press the bars into the pan or else they'll be packed in and hard to eat. We want them to be light and fluffy.
If they last longer than a day, just pack them into an airtight container at room temperature.