Cheese-Stuffed Breadsticks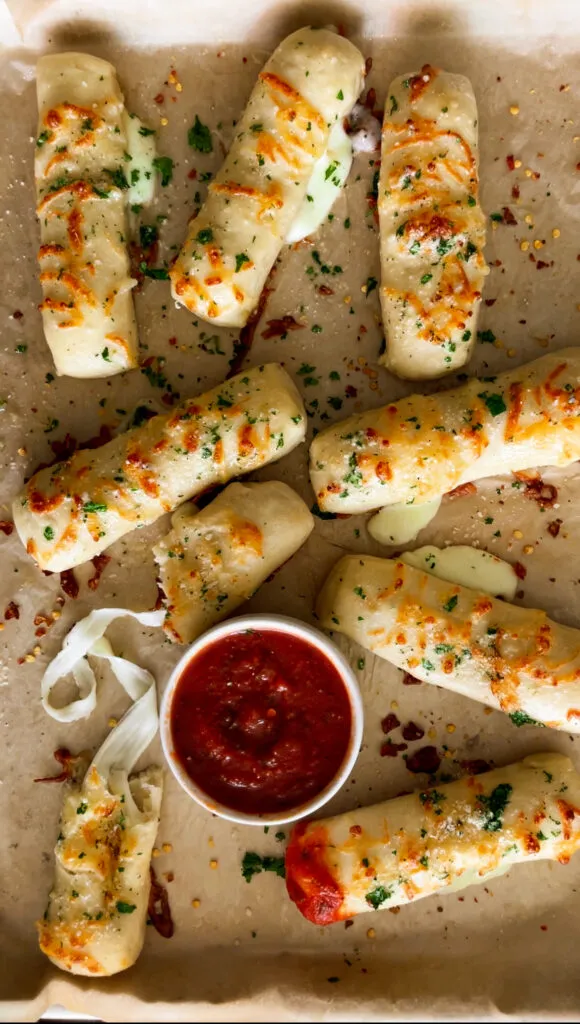 A blast from the past! These cheese-stuffed mozzarella sticks were my favorite thing to get from the cafeteria in elementary school. Some people call them bosco sticks. Now you can make them as an adult and even better with a garlic, parmesan, and herb coating.
Ingredients
12 mozzarella sticks
2 pounds pizza dough
1/3 cup mozzarella shredded
Garlic Butter
4 tablespoons unsalted butter melted
1 tablespoon parsley finely chopped
1 tablespoon parmesan grated
1/4 teaspoon salt
1/4 teaspoon garlic powder
a pinch black pepper
Instructions
Preheat oven to 425°F.
On a floured surface, roll out each pound of pizza dough into a large rectangle so you have two sheets of dough (large enough to make 12 breadsticks).
Arrange the cheese sticks on one sheet of dough, making sure they are spaced apart.
Add the second sheet of dough on top and press down tightly to seal around each cheese stick.
Using a pizza cutter, cut around each stuffed breadstick. The pizza cutter will help seal the edges but make sure to press down a bit to really make sure it's sealed and the cheese doesn't ooze out while baking.
Place the breadsticks on a parchment-lined baking sheet and bake for 12-13 minutes.
While it bakes, mix butter, parsley, parmesan, salt, garlic powder, and black pepper in a small bowl. Set aside.
Take out the breadsticks and brush the top with the garlic and herb butter.
Enjoy!