Baked Feta Pasta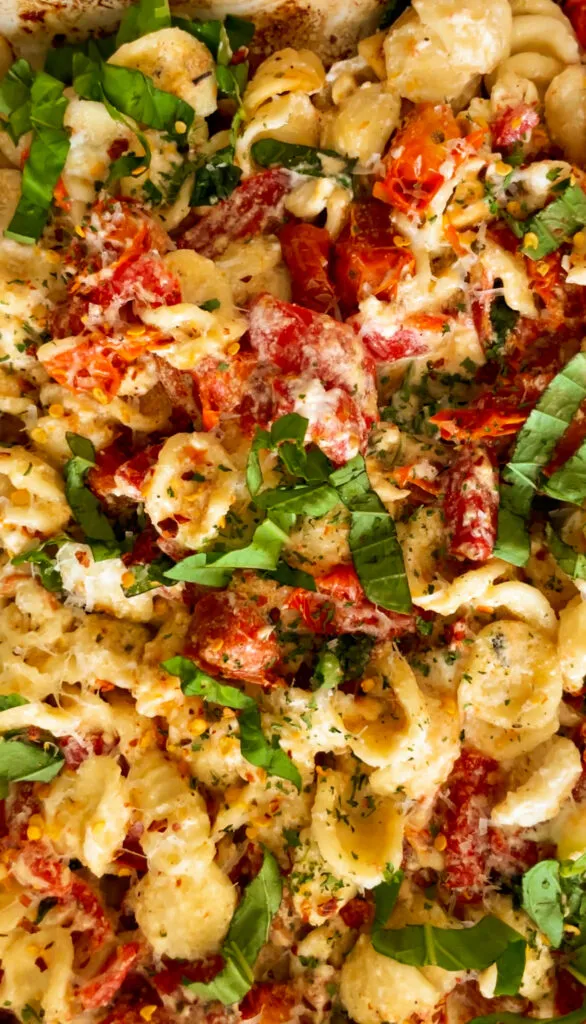 This pasta has taken the internet by a storm, especially on TikTok! Originally created by a Finnish food blogger Jenni Häyrinen, the recipe did so well that feta cheese sold out everywhere. Now we're going to make it even better. If you are not that big of a fan of feta, this recipe is the perfect balance!
Ingredients
10 ounces pasta
16 ounces cherry tomatoes
4 ounces feta cheese half a block
1/4 to 1/3 cup olive oil
1/2 teaspoon oregano
1/2 teaspoon dried parsley
1/2 teaspoon salt
1 teaspoon balsamic vinegar
1/4 teaspoon black pepper
pinch of red pepper flakes
1 to 2 teaspoons fresh garlic minced
1/2 cup whole milk ricotta
1/2 cup roasted red bell pepper chopped
3 large basil leaves chopped
salt and pepper to taste
grated parmesan optional
Instructions
Preheat oven to 400°F.
In a large oven safe baking dish, add the cherry tomatoes and in the center, add your block of feta cheese.
Drizzle olive oil on top along with oregano, parsley, salt, balsamic vinegar, black pepper, and red pepper flakes. Mix to coat evenly.
Bake in the oven for 35 minutes.
While it bakes, add your pasta to salted boiling water and cook to package directions.
Take out of the oven and add the minced garlic. Break apart the feta and mix with the tomatoes and garlic.
Add the cooked pasta, ricotta, roasted red bell pepper, and chopped basil. Mix together.
Taste and adjust salt and pepper to desired level.
Grate fresh parmesan on top and enjoy!
Tips & Notes
Other veggies that you can incorporate into this dish include sun dried tomatoes, zucchini, onions, olives, and mushrooms.
You can use any pasta shape you like! I used Orecchiette and highly recommend it.